* 2017 Marketplace Music Fest- April & May.
White Elephant shopping center once again tries to draw "people" who'll spend some cash…
Whoever is booking "these" bands, Jeff Eats will bet you S100 that you can't find 20 people at any one of these "concerts" who can name 3-top forty songs that Eric Clapton charted with!
Just maybe, one of these days- the powers to be running the Delray Marketplace will figure out "who" they want to draw and how to get them there!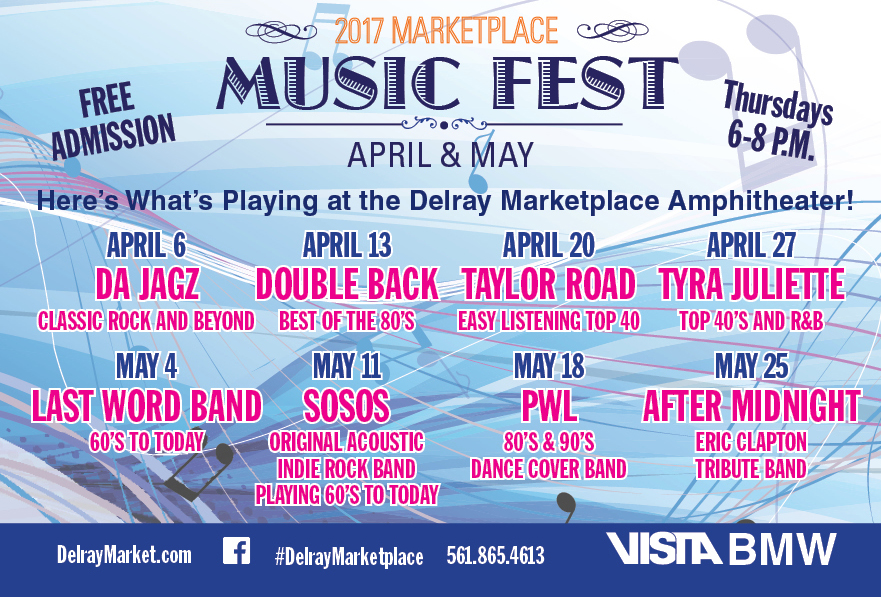 Just in case you were wondering:
PEAK POSITION
1970.10.17 After Midnight 18
1972.05.13 Layla 10
1974.07.13 I Shot The Sheriff 1
1974.11.02 Willie & The Hand Jive 26
1976.10.16 Hello Old Friend 24
1978.01.07 Lay Down Sally 3
1978.05.13 Wonderful Tonight 16
1978.10.14 Promises 9
1979.02.24 Watch Out For Lucy 40
1980.06.21 Tulsa Time 30
1981.02.28 I Can't Stand It 10
1983.01.29 I've Got A Rock N Roll Heart 18
1985.03.09 Forever Man 26
1992.02.08 Tears In Heaven 2
1992.10.03 Layla (Unplugged) 12
1996.07.20 Change The World 5
1998.02.21 My Father's Eyes 16