Originally posted on February 1, 2022.
* Jackie "The Joke Man" Martling.
Just picked-up 2 tickets…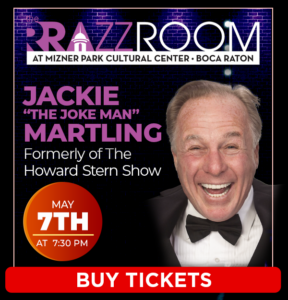 The Skinny:
Jackie "The Joke Man" Martling.
Saturday, May 7th, 2022 (7:30pm)
Mizner Park Cultural Center
201 Plaza Real
Boca Raton, Florida 33432
Box Office: (844)-672-2849
Tickets: miznerparkculturalcenter.com
from miznerparkculturalcenter.com
Jackie "The Joke Man" Martling has traveled the world making people laugh. He is a stand-up comedian, writer, radio personality, author and actor, best known for his eighteen years on The Howard Stern Show, where he was an on-air comic as well as head writer. Jackie has appeared at comedy clubs, casinos, and theaters across the globe, has had several best-selling CD's and books, hosted a Sirius XM Radio show from 2006 to 2014, and has been in a dozen of films, including The Aristocrats.