This show was originally-scheduled for 3/18/20 (7:30pm)-Coronavirus Canceled. The show is now re-scheduled for Sunday, April 11th, 2021 (7:30pm). Just checked the box-office and there is a small handful of really good seats currently available. Trust Jeff Eats on this one, these three guys will absolutely positively crack-you-up!
Originally posted on February 6th, 2020.
* Dick Capri, Stewie Stone, Jeff Capri- Three Is Funnier Than Four.
Just picked-up 2 tickets…
Trust Jeff Eats on this one, these guys are very-funny…
Don't miss them…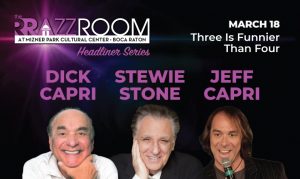 Dick Capri, Stewie Stone, Jeff Capri- Three Is Funnier Than Four
Wednesday, March 18th, 2020 (7:30pm)
Mizner Park Cultural Center
201 Plaza Real
Boca Raton, Florida 33432
Box Office: (844)-672-2849
Tickets: miznerparkculturalcenter.com also check goldstar.com (discount tickets)
Just a taste of some real funny-clean comedy…
from miznerparkculturalcenter.com
Dick Capri has taken the comedy world by storm and has left millions laughing in his comedic wake. Capri made his Broadway debut in 1991 at the Lunt Fontanne Theater, co-starring in the critically acclaimed CATSKILLS ON BROADWAY. The show played to sold-out houses for fourteen months, and later successfully toured nationally.
Stewie Stone has been the Vice-President of the famous New York Friar's Club for the past ten years. Stone has been their main MC and Roast Master for many events including Matt Lauer, Pat Cooper, Don King and Donald Trump.
Jeff Capri is one of the top second-generation comics working today. He has sparkling takes on pop culture. clean edged political twists, and a silly pun or three. Jeff's television appearances include Comics Unleashed, Last Comic Standing and Ed McMahon's Next Big Star. He also stars in the comedy documentary "I Am Battle Comic" (available on Amazon Prime & iTunes).
Don't miss these comedic geniuses live at the Mizner Park Cultural Center on March 18, 2020!