Just checked the Mizner Park Cultural Center Box-Office (miznerparkculturalcenter.com) and there are some real-good seats available for both October 18th and 19th's performances. I am telling you guys that this guy Harrison Greenbaum puts on an absolutely terrific comedy-magic show. Don't miss this show!
Posted on August 12th, 2019 ·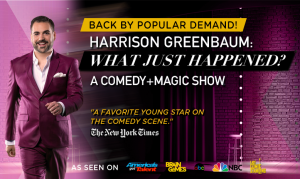 * Harrison Greenbaum: What Just Happened?
Saw this show earlier this year at the Mizner Park Cultural Center- all I can tell you guys is...
DON'T MISS THIS SHOW!
Harrison Greenbaum: What Just Happened?
Friday, October 18th, 2019 (7:30pm)
&
Saturday, October 19th, 2019 (7:30pm)
Mizner Park Cultural Center
201 Plaza Real
Boca Raton, Florida 33432
Box Office: (844)-672-2849
Tickets: miznerparkculturalcenter.com
from miznerparkculturalcenter.com
BACK BY POPULAR DEMAND!!! After two sold-out shows, award-winning magician and comedian, Harrison Greenbaum, who has been featured on ABC's "America's Got Talent," NBC's "Last Comic Standing," National Geographic's "Brain Games," and more – is bringing his gut-busting, jaw-dropping show back to the Mizner Park Cultural Center!
Experience a theatrical magic and comedy extravaganza that deftly combines "smart, witty, and lightning quick punchlines" (SceneTracker) with jaw dropping, cutting-edge illusions, mind reading and legerdemain. This show is a unique blend of Harrison's award-winning comedy, which he has performed at comedy clubs and festivals around the world, with original magic, much of it invented specifically for this show and never before seen.

*Admission is restricted to those age 16 and over.