Originally posted on August 3rd, 2021
* Stars of the Sixties Volume 4.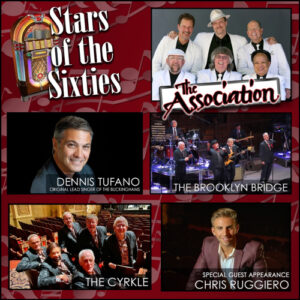 Just announced…
Stars of the Sixties Volume 4
Friday, February 4th, 2022 at 7:30 PM
Carole & Barry Kaye Auditorium at FAU
777 Glades Road-
Boca Raton, Florida 33431
Box Office: (561) 297-6124
Tickets: fauevents.universitytickets.com
Pre-Sale -Starts on Tuesday- August 3rd, 2021 at 10AM
PRE-SALE CODE: POPROCK
———-
Ticket sales begin on 8/6/2021 at 10:00 AM
Carole and Barry Kaye Auditorium
Friday, Feb 4, 2022 at 7:30 PM
Stars of the Sixties return to FAU with The Association! They have sold over 80 million records, tapes, CDs and DVDs, earning six gold and three platinum discs along with seven Grammy Award nominations. "Windy", "Cherish", "Along Comes Mary", "Never My Love" and "Everything That Touches You" receive almost as much airplay today as they ever have and on February 4th, you'll get to hear them all live.
Joining them will be The Brooklyn Bridge ("The Worst That Could Happen", "Welcome Me Love", "Blessed is the Rain"), Dennis Tufano, singing all the songs he made famous as the lead singer of the Buckinghams ("Kind of Drag", "Don't You Care", "Susan", "Hey Baby! They're Playing Our Song", "Mercy, Mercy, Mercy", "Back in Love Again"), The Cyrkle ("Red Rubber Ball", "Turn Down Day"), and Chris Ruggiero will make a special guest appearance following his rise to fame on PBS-TV, singing 60s favorites you know and love. Don't miss this sixties reunion!