* I Know It Isn't Exactly- Ali Frazier, but…Wilder Fury II Is Gonna Be Some Fight!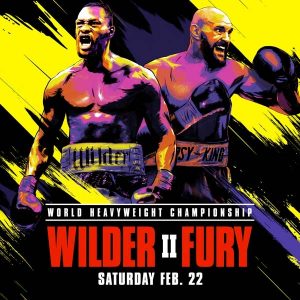 Now…rather than spending $79.99 for pay-per-view…Jeff Eats, Mrs. Jeff Eats and 3-other couples got big plans to watch the fight for FREE at Miller's Ale House, 1200 Yamato Road, Boca Raton, Florida 33431, (561) 988-9142.
Should be a terrific night of good food, good drink, good company, good fight!
If this plan makes sense to you…
From millersalehouse.com
Undefeated and reigning WBC champion Deontay Wilder will face undefeated former WBO (and more) champion Tyson Fury for the Premier Boxing World Heavyweight title. NO COVER except at the following locations: Deer Park, NY ($10); Hollywood, FL ($10); Miami Lakes ($10); Rego Park, NY ($10); Levittown, PA ($10); Lake Grove, NY ($10); Watertown, MA ($10); Rockville, MD ($10); South Philly, PA ($10); Springfield, PA ($10).
Saturday, February 22
9PM ET / 6PM PT
Find a Watch Party near you:
You must be 21+ for bar seating.
Florida
Orlando Metro Area
Altamonte Springs – Altamonte Springs, FL
Champions Gate – Davenport, FL
Daytona – Daytona Beach, FL
Hunter's Creek – Orlando, FL
Kissimmee – Kissimmee, FL
Lady Lake – Lady Lake, FL
Lake Buena Vista – Orlando, FL
Ocala – Ocala, FL
Orlando Airport – Orlando, FL
Orlando Alafaya – Orlando, FL
Orlando East Colonial – Orlando, FL
Orlando Florida Mall – Orlando, FL
Orlando I – Drive – Orlando, FL
Orlando Kirkman – Orlando, FL
Orlando Sanford – Sanford, FL
Oviedo – Oviedo, FL
Winter Garden – Winter Garden, FL
Winter Park – Winter Park, FL
Winter Park Village – Winter Park, FL
Palm Beach Metro Area
Boynton – Boynton Beach, FL
Gardens – Palm Beach Gardens, FL
Jensen Beach – Jensen Beach, FL
Jupiter – Jupiter, FL
Port St Lucie – Port St Lucie, FL
Tampa/St. Petersburg Metro Area
Brandon – Brandon, FL
Lakeland – Lakeland, FL
Sarasota – Sarasota, FL
Seminole – Seminole, FL
St. Pete – St. Petersburg, FL
Tampa Airport – Tampa, FL
Tampa USF – Tampa, FL
Miami/Ft. Lauderdale Metro Area
Coral Gables – Coral Gables, FL
Coral Springs – Coral Springs, FL
Davie – Davie, FL
East Boca – Boca Raton, FL
Hollywood – Hollywood, FL
Miami Doral – Doral, FL
Miami Falls – Palmetto Bay, FL
Miami Kendall – Miami, FL
Miami Lakes – Miami Lakes, FL
Pembroke Pines – Pembroke Pines, FL
West Boca – Boca Raton, FL
Panhandle
Destin – Destin, FL
Pensacola – Pensacola, FL
Tallahassee – Tallahassee, FL
Fort Myers Metro Area
Ft Myers – Fort Myers, FL
Ft Myers Estero – Fort Myers, FL
Naples – Naples, FL
Gainesville Metro Area
Gainesville – Gainesville, FL
Jacksonville Metro Area
Jacksonville Avenues – Jacksonville, FL
Jacksonville Hodges – Jacksonville, FL
Jacksonville Mandarin – Jacksonville, FL
Jacksonville Regency – Jacksonville, FL
Jacksonville Southside – Jacksonville, FL
Orange Park – Orange Park, FL