Originally posted on 5/6/22.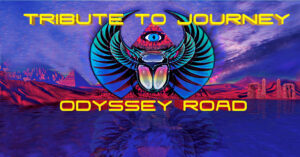 * TRIBUTE TO JOURNEY by ODYSSEY ROAD -FREE CONCERT! Sunday, May 22nd,, 2022 @ 5PM.
Trust Jeff Eats on this one- ODYSSEY ROAD is one of the best JOURNEY tribute acts in the business!
A word to the wise- the bet here is that the Wellington Amphitheater is going to draw a GIGANTIC crowd for this event- so if you're planning on going, GET THERE EARLY!
From wellingtonfl.gov/Amphitheater…
TRIBUTE T0 JOURNEY by ODYSSEY ROAD
Sunday, May 22nd, 2022 @ 5PM
Wellington Amphitheater
12100 Forest Hill Blvd, Wellington, Florida
Free Concert
Bring your own seating
Food trucks
5.22.22.
For details on upcoming concerts, movies, and food truck events, visit wellingtonfl.gov/Amphitheater.