Originally posted on May 17th, 2021.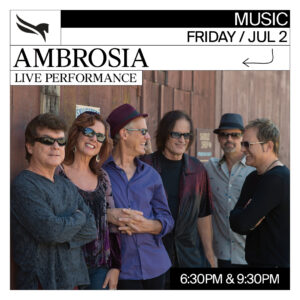 * AMBROSIA- The Ultimate Concert Experience.
Trust Jeff Eats on this one, killer band in an absolutely dynamite indoor concert venue- is gonna be SRO!
_________________
TICKETS JUST WENT ON SALE!
AMBROSIA- The Ultimate Concert Experience
Friday, July 2nd, 2021 (6:30pm & 9:30pm)
Sport of Kings Theater at Gulfstream Park Racing and Casino
901 Federal Highway, Hallandale Beach, Florida 33009
Tickets Online: seasidemusicmgmt.com ($45-$75)
From seasidemusicmgmt.com
About The Event:
The Sport of Kings Theater offers an intimate concert experience with six levels of seating for 850 guests. Located on the 2nd floor of the Gulfstream Park Clubhouse, Sport of Kings is the perfect venue to see the show up close and personal. View the show in style from the VIP section including cocktail tables, beverage and food service.
About The Band:
Ambrosia is an American rock band formed in Los Angeles, California in 1970. Ambrosia had five top 40 hit singles released between 1975 and 1980, including the top 5 hits "How Much I Feel" and "Biggest Part of Me", and top 20 hits "You're the Only Woman (You & I)" and "Holdin' on to Yesterday". Most of the original band members have been active with the group continuously for well over 25 years to the present day. Ambrosia currently tours internationally and has worked in the past and present with Leonard Bernstein, Kurt Vonnegut Jr., Alan Parsons, Bruce Hornsby, Bill Champlin, Michael McDonald and Peter Beckett among other notable artists.