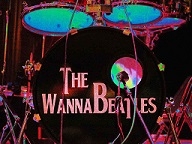 * The WannaBeatles.
Let me ask you guys something…
1. Which Beatles' tribute band has been nominated for a Grammy Award (2012)?
2. Which Beatles' tribute band has made an appearance on tv's Huckabee show?
3. Which Beatles' tribute band has a member who has won 2 Grammy Awards and 1 Emmy Award?
4. Which Beatles' tribute band has a member who is a former member of the legendary Rock N Roll band- Sha Na Na?
5. Which Beatles' tribute band has a member who as a member of Billy Vera and the Beaters played on the #1 1981 single 'At This Moment'?
The answer to all 5 questions- The WannaBeatles!
Jeff Eats and Mrs. Jeff Eats have seen the Nashville based- WannaBeatles and not one of the band members wore a Beatles' wig or spoke with a fake British accent…What you get- are four extremely-talented musicians in a fast paced extremely entertaining interactive show- recreating The Beatles' hits exactly as The Fab Four recorded them!
Trust Jeff Eats when I tell you that- The WannaBeatles are an absolute must see act!
Just announced…
The WannaBeatles
Sunday, November 11, 2018 at 2:00PM
Lauderhill Performing Arts Center
3800 NW 11th Place
Lauderhill, Florida 33311
Box Office/Info: (954) 777-2055
Tickets: lpacfl.com
from lpacfl.com
The WannaBeatles offer a fun-filled, family friendly extravaganza that goes "where no Beatles Band has gone before." Of course, you'll hear your Beatles favorites, but there's much more! Their hilarious parodies, on stage antics, and audience involvement combined with ground breaking visual effects that make The WannaBeatles show a "must see." Whether with a symphony orchestra or as a stand-alone performance like the original "Fab Four," The WannaBeatles love what they do and it shows!