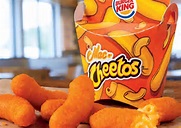 * Burger King- Mac 'n Cheetos.
Mark your calendars!
Tomorrow- nationwide- Burger King will introduce its new Mac 'n Cheetos (5 deep fried mac 'n cheese sticks coated with Cheetos' dust) for $2.49!
Just between you guys and Jeff Eats, Mac 'n Cheetos sounds like something I'd like to give a whirl!
For you guys not into "the early bird catches the first worm" way of doing business, Mac 'n Cheetos is only gonna be out there for eight weeks!