Just checked the Mizner Park Cultural Center box-office (miznerparkculturalcenter.com) and a small handful of tickets are still available for ICONS-The Art Of Celebrity Illusion…so if you wanna go and don't yet have tickets, it's time to make your move on the ticket front!
Posted on October 26. 2019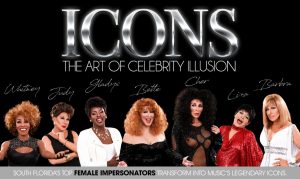 * ICONS- The Art Of celebrity Illusion.
Just picked-up 2 tickets for ICONS-The Art Of Celebrity Illusion…
Hearing some dynamite things about this show!
The Skinny:
ICONS- The Art Of celebrity Illusion
Friday, November 15th, 2019 (8pm)
Mizner Park Cultural Center
201 Plaza Real
Boca Raton, Florida 33432
Box Office: (844)-672-2849
Tickets: miznerparkculturalcenter.com
From miznerparkculturalcenter.com
Experience an unforgettable evening as South Florida's Top Female Impersonators transform into music's legendary icons! Mind-blowing illusions bring Cher, Bette Midler, Barbara Streisand, Whitney Houston, Celine Dion, Judy Garland, Liza Minelli, and more together for one night only!
Join host and local drag superstar, Nicole Halliwell, through this one-hour journey full of glamour, fabulous costumes, and unforgettable hits – with lots of unexpected surprises along the way! Sing along and get face to face with these mega stars as they share the same stage – exclusively at Mizner Park Cultural Center!