* Nostalgic America Magazine & South Florida SunSentinel present- 2020 Concert Series.
Got an absolutely dynamite "thing" for all you Rock N Rollers out there…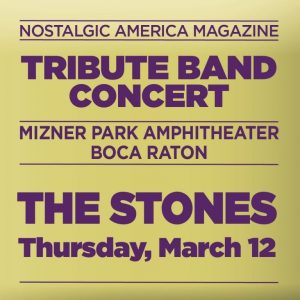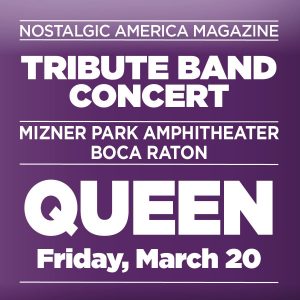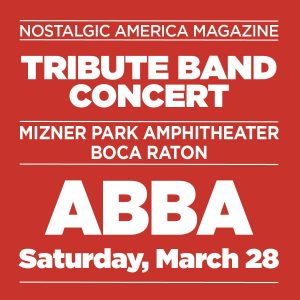 Real easy tale to tell, Nostalgic America Magazine & South Florida SunSentinel are producing – 3 absolutely amazing tribute band concerts which will have thousands in attendance at Mizner Park Amphitheater in Boca Raton partying the night away!
The Lineup/Schedule: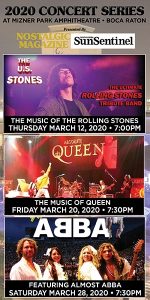 Trust Jeff Eats when I tell you- I've seen all three bands in action and -if you squint your eyes just a drop – you'll swear (in no particular order) that Jagger, Richards, Mercury, May, Woods, Watts, Agnetha Fältskog, Björn Ulvaeus, Benny Andersson, Taylor and Anni-Frid Lyngstad are right in front of you on Mizner Park Amphitheater's stage!
General Admission Tickets run 20 bucks per concert. If you purchase all 3 concerts- $50 for the package.
VIP/Reserved Tickets (first 5 Rows of Seating) run $40 per concert.
Food Trucks will be on site serving up- lobster rolls, gyros, wood fire pizza, vegan, Good Humor Ice Cream and plenty of other stuff!
* You guys can catch event info & order tickets online at-www.Nostalgicmusic.net & www.myboca.us/826/Mizner-Park-Amphitheater.
You guys can checkout the bands…
THE U.S. STONES (theusstones.com)
ABSOLUTE QUEEN (absolutequeenrocks.com)
ALMOST ABBA (AlmostABBA.com)
1-2-3…Don't miss these concerts!