This contest started on 12/4/19. This contest has a winner.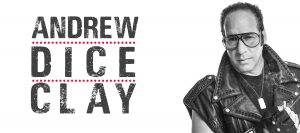 * Win 2 Tickets- Andrew Dice Clay.
Got 2 tickets to see Andrew Dice Clay this coming Saturday, December 7th, 2019 (8pm) at the Coral Springs Center for the Arts, 2855 Coral Springs Drive, Coral Springs 33065 (Box Office: (954) 344-5990, Tickets: thecentercs.com).
If you want these tickets…
The game- the first 10 "reader-comments" received – will be entered in a "blind hat pick"! You can submit as many comments as you'd like but- Please, only 1- reader comment – per day…play fair!