Brothers of Brooklyn (Miami Lakes)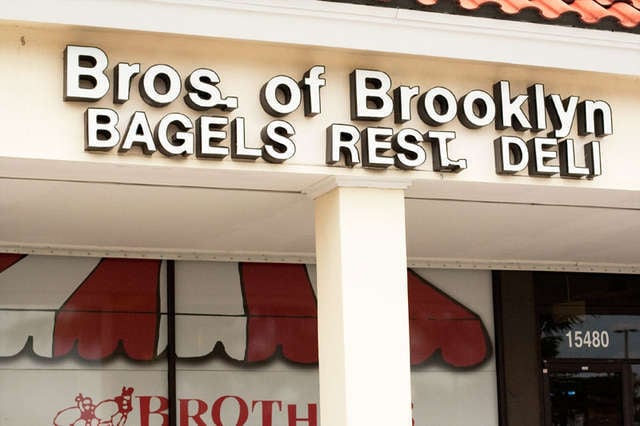 ***** Brothers of Brooklyn, 1547 Northwest 77th Court, Miami Lakes, Florida 33016 (305) 362-6292.
Brothers of Brooklyn is a "bagel-deli" joint…it is open 7 days a week for breakfast-lunch 7am-3:30pm. I'm not gonna describe its decor, if you are 3+ years old, you know exactly what this type of joint looks like. I am not exactly sure how long Brothers has been around, but I have been eating there since 1991. I'm gonna bet that I've had breakfast there something like 30 times.
Just so we are straight…Brothers is a neighborhood-type joint. There is absolutely-positively nothing "gourmet" here…so if you are looking for top-notch pastrami/corned beef/brisket this joint ain't for you. Brothers is the "borderline seedy" (in the good sense) joint where you go for a "standard" cup of coffee-scambled eggs with bacon and a toasted everything with a schmear. Nothing more, nothing less.
Brothers is my kind of a joint. Plain…Simple…Easy Going.