Rita Rudner & Robert Klein/ March 2nd, 2023 (Lillian S. Wells Hall at The Parker- Fort Lauderdale)
Originally posted on August 31st, 2022.
* Rita Rudner & Robert Klein.
Just a heads-up…
Tickets go on sale tomorrow morning (9/1/22) at 10am!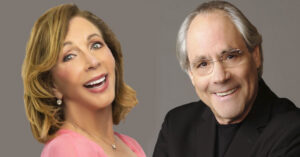 Thursday, March 2nd, 2023 (8pm)
Rita Rudner & Robert Klein
Lillian S. Wells Hall at The Parker
707 Northeast 8th Street
Fort Lauderdale, FL 33304
Box Office: 954.462.0222
Tickets Online: parkerplayhouse.com (on sale to public on 9/1/22 at 10am)
($45-$65)
THU, MAR 2, 2023 – 8:00 PM
EVENT DETAILS
Experience an evening with two comedy legends: Rita Rudner and Robert Klein.
Named Las Vegas's Comedian of The Year nine years in a row, Rita Rudner is known for her epigrammatic one-liners. She started her standup career in the late 70s, and made her debut on Late Night with David Letterman in 1982. She has recorded several award-winning comedy specials, most notably Rita Rudner: Born to Be Mild, Rita Rudner: Married Without Children, Rita Rudner: Live From Las Vegas and most recently 2018's A Tale of Two Dresses. Rita is an accomplished writer of five books and frequent collaborator with her writer/producer husband Martin Bergman.
For more than forty years, Robert Klein has entertained audiences, and he continues to have an acclaimed career in comedy, on Broadway, on television, and in film. A pioneer in modern stand-up comedy who inspired heavyweights like Jay Leno and Jerry Seinfeld, Robert brings his genius to The Parker showcasing his comedy, musical, and theatrical talents! Klein enjoyed many popular and influential comedy albums in the 1970s and was nominated for a Best Actor in a Musical Tony Award for 1979's They're Playing Our Song. Klein regularly appears on talk shows, making more than 100 appearances on The Tonight Show and The Late Show. He was nominated twice for Grammy Awards for "Best Comedy Album of the Year" for his albums "Child of the Fifties" and "Mind Over Matter." Klein was also nominated twice for Emmy Awards for his HBO comedy specials.