DISH OF THE WEEK (Sunday- 8/28/22- Lox & Bagel- Boca Raton)
***** DISH OF THE WEEK (Sunday- 8/28/22- Lox & Bagel.
One of Jeff Eats' favorite menu items…
MIXED DOZEN OF BAGELS
($18)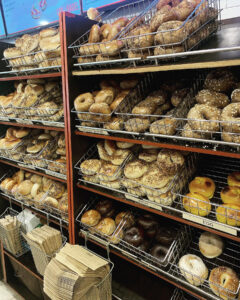 Lox & Bagel
21065 Powerline Road
Boca Raton
(561) 245-8363
kosherloxnbagel.com
Latest Review; 1/21/22
Trust Jeff Eats on this one, Lox & Bagel's bagels are right up there with the best in Florida!
Posted on January 21st, 2022
***** Lox & Bagel, 21065 Powerline Road, Boca Raton, Florida 33433, (561) 245-8363.
Got a real good kosher bagel joint for you guys to checkout- Lox & Bagel in Boca Raton.
Simple tale to tell, yesterday morning Jeff Eats and Mrs. Jeff Eats "discovered" Lox & Bagel and I gotta tell you guys- the joint's food was absolutely delicious! Table seating. No frills decor. Reasonably priced breakfast/lunch/dinner menu. Open Sunday-Friday 7am-3pm/4pm-9pm/ closed on Saturday.
Now, just so we are straight with each other, if you just can't live without cheeseburgers, BLTS and bacon & eggs- Lox & Bagel isn't going to work for you…that said, if you can "suck it up" – I am telling you guys that Lox & Bagel's full boat of boiled-baked bagels/ breakfast stuff/ appetizing/ bakery items/ salads/ sandwiches/ pizzas & pastas/ entrees will make you a fan!
You guys can check menu/prices/info at kosherloxnbagel.com.