Strangelove- The Depeche Mode Experience (The Casino @ Dania Beach- Dania Beach)
* Strangelove- The Depeche Mode Experience.
Tickets Just Went On Sale!
Just bought 2 tickets.
Looking forward to this show, hearing terrific things about this tribute act!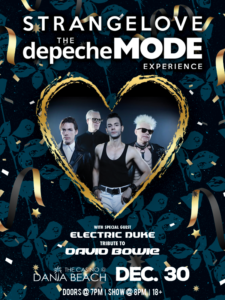 From casinodaniabeach.com
Tickets Online: casinodaniabeach.com
Tickets By Phone: 877-788-8208
The Casino @ Dania Beach- Stage 954
301 East Dania Beach Boulevard
Dania Beach, Florida 33004
(954) 920-1511
Open: 9am-3am
STRANGELOVE – The Depeche Mode Experience, one of the most successful tribute productions touring the world, delivers a pitch-perfect "best of" DEPECHE MODE arena/stadium scaled concert that transports listeners through time and touches on key points in DM's illustrious career. In addition to spot-on recreations of the darkly seductive music, the hip swivels, era-specific authentic gear/attire, and custom projection visuals are all there. The visual presentation and in-show costume changes reflect different eras of Depeche Mode's four decade, 120 million album selling story. This internationally touring sensation has been selling out shows around the globe throughout 2022 (including jaunts to Russia & Australia/New Zealand), and is continuing into 2023.
TESTIMONIALS:
DEPECHE MODE'S MARTIN GORE ON STRANGELOVE-THE DEPECHE MODE EXPERIENCE
"They do it to such fine detail that's it's scary. They're obviously big fans. I've seen quite a few videos online. You can go and buy tickets on Ticketmaster and they play to very big crowds. They have videos that they've made, screens behind them, it's like a full-on production. I think they are fulfilling a fan's needs by being there when we are not on tour. Keeping the fans satiated while we're taking a break. "
"The best Depeche Mode tribute on the planet!" -Richard Blade, DJ SIRIUS/XM /#1 Bestseller "The World In My Eyes"
""Wow – I loved that it felt REAL… That's what Depeche Mode deserves! Leo, you're a great study of Dave's physicality" -Adam Lambert – Queen
"Strangelove-an AMAZING Depeche Mode tribute…close your eyes…it's Depeche Mode, it's spot on Depeche Mode" -Sam "The Shark" Glancy – KROQ
BUY YOUR TICKETS HERE!