Win A Feltman's of Coney Island $59.99 "The Man" -Father's Day Grill Bundle
This contest started on 6/12/20. This contest has a winner.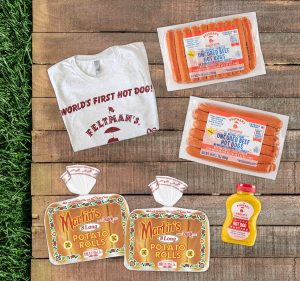 * Win A Feltman's of Coney Island $59.99 "The Man" -Father's Day Grill Bundle.
Jeff Eats got a Feltman's of Coney Island $59.99 "The Man" -Father's Day Grill Bundle to give to one of you guys!
The game- the first 30 "reader-comments" received – will be entered in a "blind hat pick"! You can submit as many comments as you'd like but- Please, only 1- reader comment – per day…play fair!
"The Man" will be delivered free (prior to Father's Day, June 21, 2020) to contest winner's address.
For more information about Feltman's of Coney Island- check feltmansofconeyisland.com.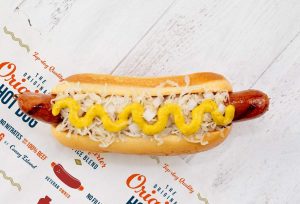 From feltmansofconeyisland.com
"The Man" – Father's Day Grill Bundle
Feltman's of Coney Island presents: "The Man"! The ideal Father's Day gift because your Dad will not only enjoy the hot dogs and bun, mustard combo, but he'll also be in charge of the party!
This Father's Day Grill Bundle features our critically-acclaimed artisanal 100% natural all-beef nitrate-free hot dogs and deli styled mustard, paired with the fantastic Potato Rolls from Martin's. Oh, not to mention the best tri blend T-Shirt in the entire world, with the Original Hot Dog all over it!
This bundle is something Dad will always remember, especially after he runs the best grill party in the neighborhood!
The Father's Day Grill Bundle includes:
1 x 6 original casing hot dog pack (1 lb)
1 x 10 skinless hot dog pack (1 lb)
2 x 8 Martin's Potato Buns
1 x Deli Mustard bottle (9oz)
1 x Feltman's T-Shirt (sm, med, lg, x-lg, xx-lg)
From 6sqft.com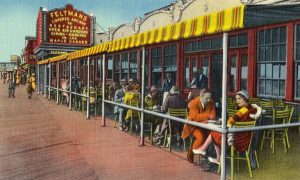 CONEY ISLAND, FEATURES, HISTORY
Before Nathan's there was Feltman's: The history of the Coney Island hot dog
POSTED ON WED, JULY 3, 2019 BY DANA SCHULZ
It's not often that you'll go to a New York restaurant and find "hot dog" on the menu. The meaty delight is typically reserved for baseball games (in the foot-long variety) and summertime jaunts on the boardwalk. And of course, when we say boardwalk in NYC, we're talking about Coney Island, widely believed to be the birthplace of the modern American frankfurter.
The name Nathan's has become synonymous with Coney Island, whether it be for the annual hot dog-eating contest or the childhood nostalgia of the boardwalk. It's also become arguably the biggest name in the hot dog world in general. But, believe it or not, Nathan's was not the first place to serve up franks in the seaside neighborhood. That distinction goes to Feltman's, which was begun in 1867 as a pushcart by German immigrant Charles Feltman, considered the inventor of the hot dog on a bun.
German butcher Charles Feltman arrived in America in 1856 at 15 years old, already familiar with the frankfurter from his home country. According to the Coney Island History Project:
Charles Feltman began his career in 1867 pushing a pie wagon through the sand dunes of Coney Island. Four years later he leased a small plot of land and began building an empire that by the early 1900s covered a full city block and consisted of nine restaurants, a roller coaster, a carousel, a ballroom, an outdoor movie theater, a hotel, a beer garden, a bathhouse, a pavilion, a Tyrolean village, two enormous bars and a maple garden.
By the 1920s, Feltman's Ocean Pavilion was considered the largest restaurant in the entire world, serving more than five million customers a year and selling 40,000 hot dogs a day.
Legend has it that Feltman decided to put his pork sausage on a bun as a way to avoid providing plates and cutlery. The hot dogs, which were known as Coney Island red hots, sold for ten cents each, but interestingly, it was the restaurant's shore dinner, a seafood platter of lobster, fish, and oysters, that was most popular at the restaurant. Feltman's was such a success that even President Taft and Diamond Jim Brady stopped by.
But in 1916, a Polish-American employee of Feltman's named Nathan Handwerker changed the course of hot dog history forever. Handwerker sliced rolls and ran hot dogs to the grilling stations. Two of his buddies, performers Eddie Cantor and Jimmy Durante, encouraged him to start his own business, so for the next year he ate free hot dogs and slept on the kitchen floor to save his $11/week paycheck. Once he saved $300, he opened his own restaurant just a few blocks away on Surf Avenue. Before long, Nathan's Famous became the go-to spot on the Coney Island boardwalk, gaining fame for its hot dogs, which Handwerker sold for five cents, half the price of Feltman's.
It should be noted, though, that Feltman's lasted until 1954, so it's not quite fair to say that Nathan's put it out of business, but rather that it outlasted it as a very different type of establishment. Feltman's was a complete amusement paradise, often catering to the upper class, whereas Nathan's was a place to grab a quick, tasty, and affordable bite. Charles Feltman died in 1910, but his family ran the business until selling it in the 1940s. In 1962, Dewey Albert and his son Jerry bought the site and transformed it into the Astroland Park, home to the famous Coney Island Cyclone. Sadly, Astroland ceased operations in 2008, and two years later, the last remaining structure of Feltman's, the kitchen, was torn down.
But Michael Quinn, a Coney Island historian and lover of the Coney Island red hot, has been determined to bring Feltman's back. Four summers ago, he started a pop-up Feltman's that moved around the city. The following year, Quinn began crowdfunding to supply the Feltman's label to local restaurants, and he's since taken them into local grocery stores, including Fairway, as well as mail order, where they retail for $12 for a six-pack.
The biggest news came in the summer of 2017 when Quinn's Feltman's of Coney Island Restaurant replaced the Cyclone Cafe and a White Castle on West 10th and Surf Avenue–the original Feltman's location. He had worked out a licensing agreement with Luna Park to operate in the space and was even training his staff to prepare the hot dog in the original Coney Island way. However, this past January, Luna Park did not renew Quinn's licensing agreement and instead gave the space to an operator selling Nathan's hot dogs. "This could have been a tourist attraction, where people could say, 'This is where the hot dog was born,'" Quinn told the Brooklyn Eagle.
Nevertheless, many local blogs have voted Feltman's as the best in NYC, but the truest honor comes via hot dog eating contest champion Kobayashi who said eating one of their franks is like "eating steak!"