MORTON'S THE STEAKHOUSE CELEBRATES NATIONAL FILET MIGNON DAY- TUESDAY, AUGUST 13th, 2019 WITH $1 FILET MIGNON SANDWICHES (Boca Raton, Coral Gables, Fort Lauderdale, Jacksonville, North Miami Beach, Orlando, West Palm Beach)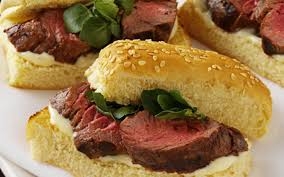 * MORTON'S THE STEAKHOUSE CELEBRATES NATIONAL FILET MIGNON DAY- TUESDAY, AUGUST 13th, 2019 WITH $1 FILET MIGNON SANDWICHES.
This is a terrific deal…
Check mortons.com for locations/info. By the way, this is an eat-in only deal and there is a- 9 $1 sandwich limit per person (which if necessary, Jeff Eats is sure that you smart guys will be able to figure a way around).
from mortons.com.
Morton's The Steakhouse is celebrating National Filet Mignon Day on Tuesday, August 13 with $1 petite filet mignon sandwiches in the bar area. From opening until 10 p.m., diners can enjoy the mouthwatering miniature sandwiches featuring premium USDA Prime-Aged filet mignon for just one dollar.
Along with delectable filet mignon sandwiches, guests can pair the sandwiches with some of Morton's famous bar bites. Customer favorites include Spinach & Artichoke Dip with toasted French Bread croutons, Shishito Peppers and mini crab cake BLTs.
"Morton's The Steakhouse looks forward to celebrating National Filet Mignon Day every year with our loyal customers, family and friends," said Tim Whitlock, Sr. Vice President of Operations for Morton's The Steakhouse. "We invite diners to experience the finest cut of beef at one of our locations to enjoy this annual occasion."
Morton's The Steakhouse opened its first location in Chicago in 1978 and now boasts 80 locations worldwide. Morton's strives to exceed guests' expectations through its food, award-winning wine list, atmosphere, genuine hospitality and unparalleled service.
Morton's offers diners "The Best Steak… Anywhere," serving only USDA prime-aged beef. Besides its exceptional steaks, Morton's offers diners fresh fish and seafood, and hand-picked produce. Morton's commitment to excellence is unwavering and is showcased in each menu item through the careful preparation and quality ingredients. Whether gathering with friends or enjoying a business dinner, Morton's guests have come to expect remarkable service and reliable experiences that keep them coming back from more. For more information on Morton's The Steakhouse, please visit www.mortons.com.
—-
For you guys who actually read Jeff Eats' tales in their entirety- here's a not too favorable tale I did on Morton's The Steakhouse wayback on 7/25/08.
All I can tell you guys is that to this very day Jeff Eats is still- not too keen on Morton's- that said, currently- seven days a week (in its Bar from 5 to 6:30 p.m. and 9 p.m. to close) Morton's offers select discount beverages and $6 bar bites which are a very good deal.
Posted on July 25th, 2008
Morton's The Steakhouse, 5050 Town Center Circle, Boca Raon, Florida 33486 (561)392-7724.
Morton's is a national chain of "upscale-white-table cloth steakhouses." There are currently 7 Florida locations.
I have eaten in the Boca Raton joint twice. The food is fair. The service is as phony as a 3-dollar bill. The prices…are upscale steakhouse prices, figure a complete meal runs somewhere around 100 bucks a head. Morton's like every other upscale steakhouse prides itself on having tip-top service. Morton's is also "big" on tableside presentation…having its wait-staff show/explain "raw cuts of meat" during the ordering process. The wait-staff also "shows" desserts before ordering.
In my most recent outing, the waiter during the meat-showing told my party, " My personal favorite is the 24 oz porterhouse." Amazingly…near the end of the meal, the very same waiter (I guess feeling a bit comfortable with our group) told me that he was "a vegetarian."
Like the waiter, Morton's is nothing but a scripited joint. The wait-staff could all work as tour-guides at Disney World…"watchout for that shark on the right side of the boat…boy that was sure close."
If you still want details, Morton's website is www.mortons.com.