Ultimate Def Leppard (The Casino @ Dania Beach- Dania Beach) & Tuscany Caffe & Restaurant (Dania Beach)
* Ultimate Def Leppard & Tuscany Caffe & Restaurant.
For you guys who like to follow Jeff Eats and Mrs. Eats' social calendar…this coming Saturday, July 13th, early dinner at Tuscany Caffe & Restaurant followed by- Ultimate Def Leppard tribute concert at The Casino @ Dania Beach.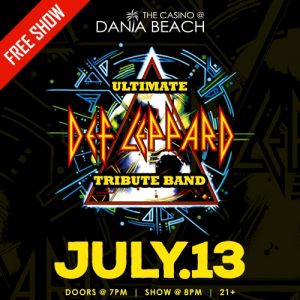 from casinodaniabeach.com
ULTIMATE DEF LEPPARD brings you a show like no other!
The boys have spent literally over 1000 hours in the studio recreating the multi layered vocal harmonies, and with that plus amazing live vocals and the incredible stage production involved, you get the closest thing to the original album versions as possible! This is exactly what the real band does, so we bring you a really fantastic facsimile of a real Def Leppard concert. No tribute wigs, this is all about the music and high energy performance.As one of the world's best-selling music artists, Def Leppard have sold more than 100 million albums worldwide, and have two albums with RIAA diamond certification, Pyromania and Hysteria. They are one of only five rock bands with two original studio albums selling over 10 million copies in the U.S. The band were ranked #31 in VH1's "100 Greatest Artists of Hard Rock" and ranked #70 in "100 Greatest Artists Of All Time".
The Casino at Dania Beach is proud to bring this incredible act to Stage 954 on Saturday July 13th.
THIS IS A FREE SHOW.
MUST PRESENT CASINO PLAYER'S CARD DAY OF THE SHOW TO GAIN ACCESS TO THE SHOW. ENTRANCE IS FIRST COME FIRST SERVE BASIS. IF GUEST IS NOT ALREADY A MEMBER OF THE PLAYERS CLUB, JOINING IS EASY AND FREE AT THE PLAYER'S CLUB ON THE 1ST LEVEL OF THE CASINO.
LIMIT 2 PEOPLE PER PLAYERS CARD PRESENTED.
FOR MORE DETAILS CALL 954-920-1511
————————-
Posted on July 13th, 2017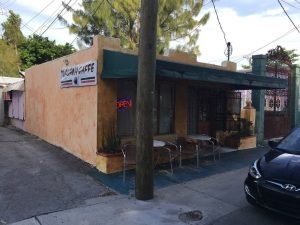 ***** Tuscany Caffe & Restaurant, 6 Northwest 1st Avenue, Dania Beach, Florida 33004, (954) 921-1953.
Real simple tale to tell you guys- last night Jeff Eats, Mrs. Jeff Eats and a couple of friends ate dinner at- Tuscany Caffe & Restaurant in Dania Beach and the hole in the wall-casual Italian joint which has something like 10 tables/50 seats served-up food that literally blew us away!
No bs- Tuscany Caffe & Restaurant is an absolute must try- that is unless you're not into a reasonably priced menu, loads of daily specials, big portions, absolutely dynamite food, super pleasant staff!
Just a heads-up, based on the size of the crowd that Jeff Eats saw on a Wednesday Night at 7:15pm in mid-July, Tuscany Caffe & Restaurant is far from being an "undiscovered gem"- with that in mind, if you go, RESERVATIONS would be a real smart move!
You can catch menu/info at tuscanycaffe.com.