Elton Dan & The Rocket Band (The Casino @ Dania Beach- Dania Beach)
* Elton Dan & the Rocket Band.
This is a terrific one for you Elton John fans out there…
AND IT'S A FREEBIE!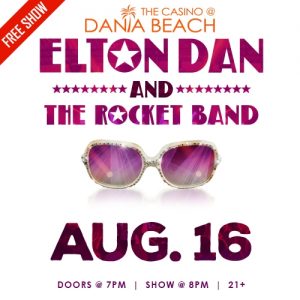 from casinodaniabeach.com
Elton Don & The Rocket Band
Friday, Aug 16th, 8pm | Stage 954 – 21+
The Casino @ Dania Beach
301 East Dania Beach Boulevard
Dania Beach, Florida 33004
(954) 920-1511
Open: Monday-Thursday 9am-3am, Friday-Sunday 24 hours
"One of the greatest tributes to Elton John! Complete Vegas style show."
An Elton Dan show pays tribute to one of the all-time greatest artists ever: ELTON JOHN. Elton Dan's rapport and stage presence is second to none and his magical piano playing has a way of engaging you in the full ELTON experience.
Before you know it, you're captivated by his incredible band including backup singers, and thrilled with the over the top costumes and high energy performances just like ELTON in days past.
Elton Dan has performed for gatherings of 8,000 plus but gives each listener the feeling that they are sharing the intimate emotions of the much loved music with just them.
Come experience this critically acclaimed tribute to the legendary Elton John Live at the Casino at Dania Beach's Stage 954!!
THIS IS A FREE SHOW.
MUST PRESENT CASINO PLAYER'S CARD DAY OF THE SHOW TO GAIN ACCESS TO THE SHOW. ENTRANCE IS FIRST COME FIRST SERVE BASIS. IF GUEST IS NOT ALREADY A MEMBER OF THE PLAYERS CLUB, JOINING IS EASY AND FREE AT THE PLAYER'S CLUB ON THE 1ST LEVEL OF THE CASINO.
LIMIT 2 PEOPLE PER PLAYERS CARD PRESENTED.
FOR MORE DETAILS CALL 954-920-15