Doughboy (Boca Raton)
***** Doughboy, 126 Northeast 2nd Street, Boca Raton, Florida 33432, 617-1887.
Hole in the wall doughnut shop that opened in Boca Raton something like 2-months ago.
Interesting simple concept, menu of mini vanilla cake doughnuts topped with all kinds of stuff. Order/pickup at counter, handful of tables. The doughnuts are sold in lots of 3, 6, 16, 25.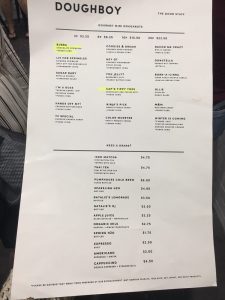 The other day, Jeff Eats and Mrs. Jeff Eats picked-up some doughnuts at Doughboy and I gotta tell you guys- real good stuff! That said, I'm kinda thinking that the doughnuts were way too pricey (basically a buck a piece) and the menu (mini cake doughnuts) way too limited to make this joint a successful business. Now, I could be wrong- but the call here (unless the landlord is a partner in the business, or the landlord isn't charging Doughboy rent,or the rent is ridiculously low for the area, or Doughboy's owners are gluttons for punishment with deep pockets) is delicious doughnuts- but the business has a limited shelf-life!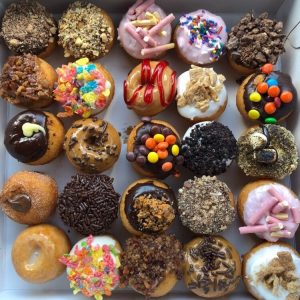 Doughboy is open Tuesday-Friday 8am-6pm, Saturday 8am-8pm, Sunday 8am-3pm, closed Monday.
You can check-out menu/prices/info at godoughboy.com.