Federal Donuts (Miami)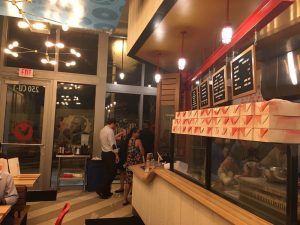 ***** Federal Donuts, 250 Northwest 24th Street, Miami, Florida 33127, (305). 573-9393…
Got a real good donut-fried chicken joint for you guys, Federal Donuts in Miami.
Real simple concept at work here, order-pickup at the counter, off the chart delicious donuts and fried chicken, 3 tables and an eat-at-stand-up counter!
_________
FEDERAL DONUTS MENU:
DONUTS
HOT FRESH
$1.75 • $7.50 half-dozen • $13 dozen
 Cookies N Cream
 Strawberry Lavender
 Cinnamon Brown Sugar
FANCY
$2.75 • $13 half dozen • $24 dozen
 Triple Chocolate
 Peach Cobbler
 Crispy Nutella
 Strawberry Milkshake
 Burnt Caramel
 Blueberry Pancake
FRIED CHICKEN
Every order of chicken includes a honey donut, and is served with your choice of dry seasoning, wet glaze or naked.
3 PIECE ($10)
Full breast, thigh and drumstick; a hearty meal for one hungry person.
6 PIECE ($20)
Two full breasts, 2 thighs and 2 drumsticks
SEASONINGS
Za'atar • Coconut Curry • Buttermilk Ranch
GLAZES
Chilli Garlic • Sweet Soy Garlic • Honey Ginger
FRIED CHICKEN SANDWICH ($7.50)
Boneless Chicken Breast, Buttermilk Ranch Seasoning, American Cheese, Dill Pickle and Spicy Rooster Sauce on a Martin's Potato Roll
_______
Based on the above "menu"- it should be quite apparent that- if donuts/and or fried chicken aren't your game- Federal Donuts which has been around for something like 2-months isn't gonna work for you! By the way, in addition to the Miami joint, Federal Donuts has 5 locations in Philadelphia!
Jeff Eats and Mrs. Jeff Eats did a recent Federal Donuts' donut-fried chicken outing and the joint blew us away. Like I said earlier, off the chart delicious donuts and fried chicken! For you Publix fried chicken fans out there- who may-be wondering, no contest whatsoever, with Publix on the short-end of the stick,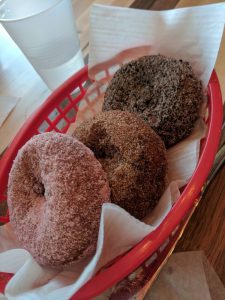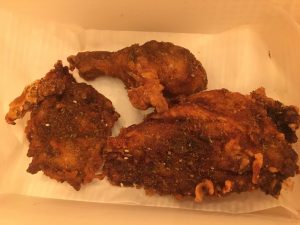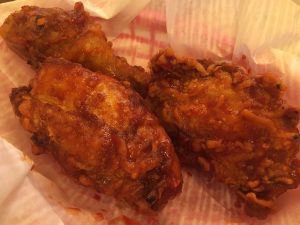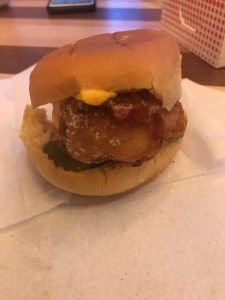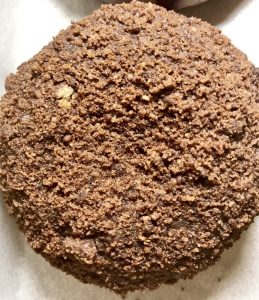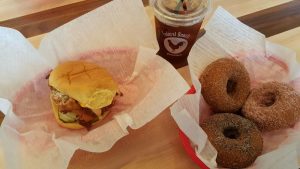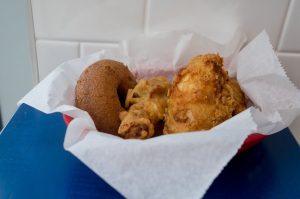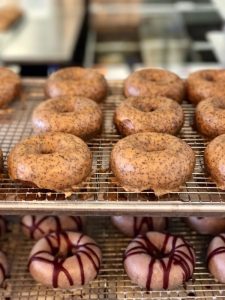 Jeff Eats and Mrs. Jeff Eats really enjoyed Federal Donuts. The truth be told, both of us are suckers for good donuts and good fried chicken (in no particular order)- so Federal Donuts was a no brainer as far as we were concerned!
You can check Federal Donuts out at federaldonuts.com.
Federal Donuts is open Sunday-Wednesday 7am-7pm, Thursday-Saturday 7am-10pm.