Walter Becker, Guitarist, Songwriter and Co-Founder of Steely Dan, Dies at 67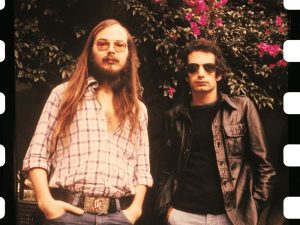 * Walter Becker, Guitarist, Songwriter and Co-Founder of Steely Dan, Dies at 67.
Jeff Eats' bet here- is that most of you guys never had the honor nor privilege of seeing Steely Dan perform live!
As I've written countless times, you're not getting any younger nor are the "greats"" of Rock n Roll!
Please! Go see these "acts" on their Florida tours!
______
from washingtonpost.com
Walter Becker, the co-founder of the 1970s supergroup Steely Dan, which was inducted into the Rock and Roll Hall of Fame, died Sept. 3. He was 67.
His official website announced his death but provided no further details.
Mr. Becker had missed performances earlier in the summer in Los Angeles and New York.
Mr. Becker, a guitarist and bassist, met fellow musician Donald Fagen while they were students at New York's Bard College in the late 1960s. They later moved to California and worked as songwriters and backup musicians before launching Steely Dan in 1972. (The band's name derived from a sex toy mentioned in William S. Burroughs's "Naked Lunch.")
The group's first release was the 1972 album "Can't Buy a Thrill," which included the hit songs "Reelin' in the Years," "Dirty Work" and "Do It Again." Steely Dan often included a rotating cast of musicians, but Mr. Becker and Fagen were always the core figures and songwriters. Fagen was the lead vocalist.
Walter Becker performing in 2008. (Evan Agostini/ASSOCIATED PRESS)
The Steely Dan sound featured an original, sophisticated style of music that borrowed elements from rock, jazz, pop and soul.
"We play rock 'n' roll, but we swing when we play," Mr. Becker told Rolling Stone magazine in 1974. "We want that ongoing flow, that lightness, that forward rush of jazz."
Later albums included "Countdown to Ecstasy" (1973), "Pretzel Logic" (1974), which featured the band's biggest hit, "Rikki Don't Lose That Number," and "Katy Lied" (1975).
With a group of skilled studio musicians, including drummer Jim Keltner and jazz saxophonist Wayne Shorter, Steely Dan released "Aja" (1977), which sold more than 5 million copies. The album, which contained the hits "Deacon Blues," "Peg" and the title track, was named one of the 500 greatest albums of all time by Rolling Stone.
Steely Dan became one of the top touring groups of the late 1970s, but Fagen and Mr. Becker broke up after the release of the 1980 album "Gaucho."
They reunited in 2000 to record "Two Against Nature," which won four Grammys, including Album of the Year. The group recorded one more studio album, "Everything Must Go," in 2003.
In 2001, Steely Dan was inducted into the Rock and Roll Hall of Fame, and its music was cited for intellectual sophistication.
Mr. Becker was living on the Hawaiian island of Maui at the time of his death. Fagen said in a statement that he intends to continue to perform Steely Dan's music with other musicians.