Christopher Columbus Statue Controversy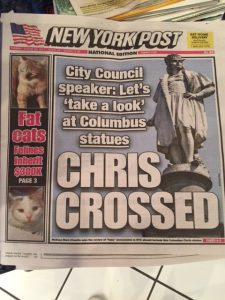 * Christopher Columbus Statue Contriversy.
Jeff Eats is "reading & hearing" that a number of American cities are considering "removing" their respective Christopher Columbus' statues because of the oppression they represent to native Americans!
Just a gut call here, but Jeff Eats is thinking that no statue- means no Columbus Day Holiday- which means no day off for school teachers etc.- so Jeff Eats says the statues stay!