National Ice Cream Day: Jaxson's Ice Cream Parlor & Restaurant (Dania Beach)
* National Ice Cream Day: Jaxson's Ice Cream Parlor & Restaurant.
Just in case you guys were wondering where Jeff Eats, Mrs. Jeff Eats and our friends Lynne and Norman are celebrating National Ice Cream Day (today- 7/16/17)- wonder no more…
By the way, if you've never been to Jaxson's- make it your business to get there!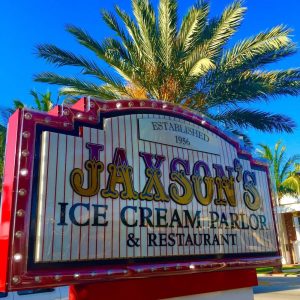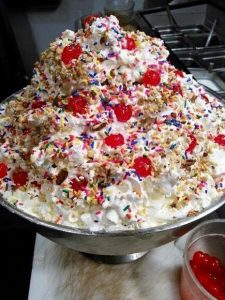 Posted on April 24th, 2008 ·
***** Jaxson's Ice Cream Parlor, 128 South Federal Highway, Dania Beach , Florida 33004, (954) 023-4445.
Jaxson's has been around something like 50 years. This is one of the greatest joints in all of South Florida, not to mention the United States, to get great home-made ice cream. The Food Channel has done several stories on Jaxson's.
Decorated in Early American License Plate, Jaxson's is located in a non-descript strip-shopping center in Dania Beach. The joint is packed day and night with people stuffing their faces with some of the most delicious ice cream that you have ever tasted. The portions are enormous and "individual" servings can feed 1-2-3 people. Jaxson's also does, burgers, hot dogs, salads etc., but the game here is ICE CREAM. Personally, my favorite is a waffle with a scoop of strawberry and a scoop of mocha chip. That single dish, is big enough to serve 2-3 people. Be smart and don't over order here, because (1) you will be wasting a ton of great ice cream and (2) you will be wasting a ton of money.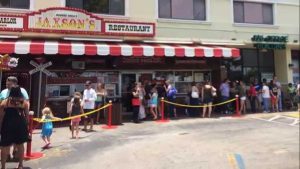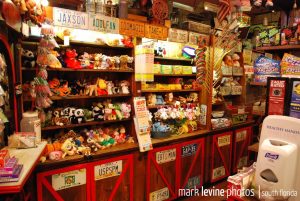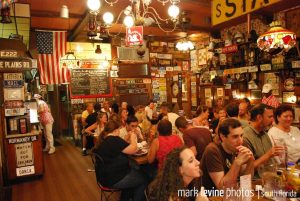 I am telling you that you absolutely positively want to try this joint. The ice cream and food are great…the atmosphere is terrific…the service is terrific…and the "penny candy" assortment at the front of the joint will have you reminiscing about 1950's Brooklyn-Bronx-Queens (etc,).
There are always lines waiting to get in and for take-out. Jaxson's is open 7-days a week…Monday-Thursday 11:30am-11pm…Friday-Saturday 11:30am- midnight…Sunday noon-11pm.