Tony B's Ristorante & Supper Club (Parkland)
* Tony B's Ristorante & Supper Club, 7351 State Road 7, Parkland, Florida 33073, (954) 906-5411.
Just between you guys and Jeff Eats, Jeff Eats "hears" a ton of stuff every day…and, I'm hearing a ton of talk about Tony B's Ristorante & Supper Club which plans to open mid-September, 2016 in Parkland…The chatter is-that the upscale Tony B's is gonna be an off-the-chart terrific Italian restaurant featuring amazing entertainment! Now you guys and Jeff Eats both know that talk-is-cheap, so we'll just have to wait and see if owner Tony Brocco – who by the way is one of America's most successful 50's-60's music concert promoters, has assembled a line-up of top shelf chefs, managers and wait-staff to warrant the current favorable buzz!!
Let's keep a close eye on this Tony B's situation- tonybsristorante.com.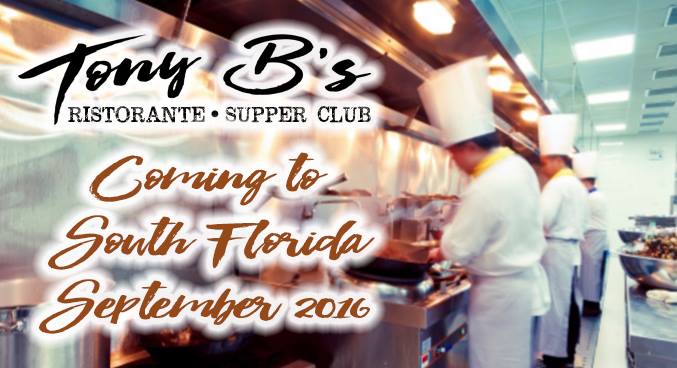 from tonybsristorante.com
About Us
Tony B's Ristorante & Supper Club is the realization of a long-time dream of owner Tony Brocco. This unique dining concept, opening in September, 2016, in Parkland, Florida, will feature Classic Italian Cuisine with a modern touch—we call it "Italian Fusion"—a mix of the best of Northern, Southern and Modern Italian cooking. Our warm & welcoming hospitality will create the ideal environment to enjoy home-style cooking, as well as enjoy music to enhance your dining experience. Tony's vision is informed by his enjoyment of the supper clubs of the 50's & 60's in NYC—great food, sophistication, and outstanding entertainment. The expert and professional team at Tony B's will enhance your every dining experience—our goal is to have you "Come for the food…Stay for the Music!"
With over 40 years of experience in various aspects of the food industry, Tony is passionate about his new venture. Moving to Florida in the 1970's, Tony became an innovator, opening a chain of fast-food Italian sausage eateries. In the years that followed, he owned and operated distribution organizations for the highest quality meat products in the region. More recently, Tony has been at the forefront of the entertainment industry in South Florida– bringing some of the top hit recording artists of the '50 & '60's to the area in major concert venues, including Bobby Rydell, The Drifters, The Platters, The Shirelles, The Flamingos, Jay and the Americans…and the list goes on. These icons, including legendary DJ/MC Cousin Brucie, created the soundtrack of his life, and now, to Tony, they are friends.
He and his wife, Ann Marie, look forward to bringing this love of quality food and music to new friends and guests who visit Tony B's Ristorante & Supper Club, opening this September, at 7351 State Road 7 (441), Parkland, Florida. Watch this website for special Happy Hour, Ladies Night, private party & live music events. Tony B's hope to become your "go to" place for all your special events. Let us help you plan an evening or party to remember. Stay tuned…
Use our Contact Us page to stay in touch until our doors open in September.