Anne Marie's Italian American Pizzeria (Coconut Creek)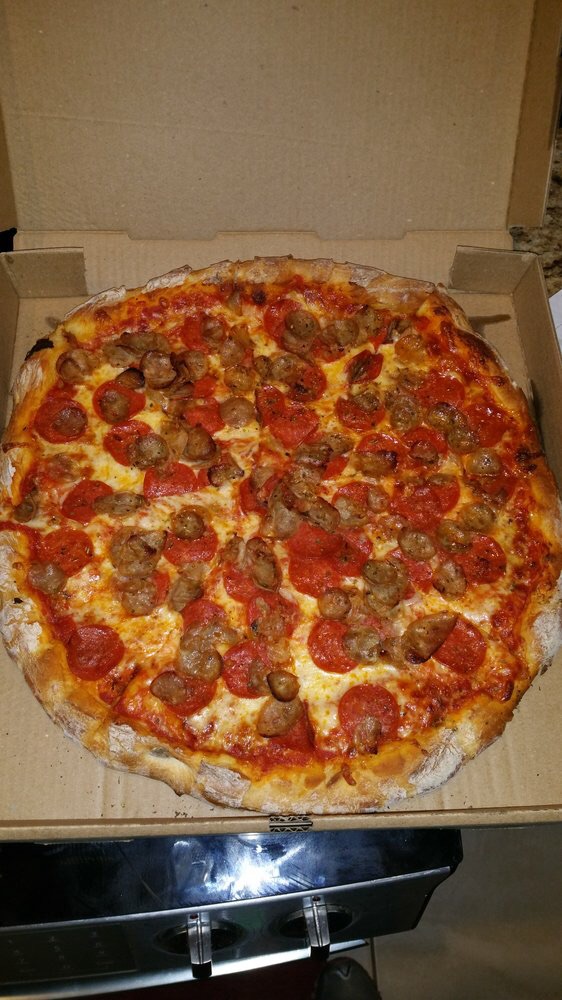 ***** Anne Marie's Italian American Pizzeria, 4570 Lyons Road, Coconut Creek, Florida 33073, (954) 974-5683.
Yesterday, Jeff Eats and Mr. Jeff Eats spent a good part of the day watching some "playoff football" at our friends Mike and Lynn's house in Coconut Creek. Mike and Lynn also had a whole bunch of other people over- I'm kinda thinking everybody counted 16- give or take!
Long story short, Mike and Lynn brought in a load of food- some was from Anne Marie's Italian American Pizzeria in Coconut Creek…Mike and Lynn footed the bill and Jeff Eats' only involvement with the food was going with Mike to Anne Marie's to pick-it-up and of course eat "it" once we got it "home."
Just so you guys know, Anne Marie's is a "mom & pop" Italian red sauce joint- maybe 8 tables and some wall-counter seating! Absolutely nothing fancy by any stretch of the imagination going on there!
Mike and Lynn's order… 4 16″ cheese pizzas (1 sausage & pepperoni, 1 cheese, 1 green peppers, 1 meatball), 4 chicken parmigiana whole subs, 4 philly steak & cheese whole subs, 4 philly chicken & cheese whole subs, 4 philly sausage & cheese whole subs, 3 chicken & broccoli large strombolis, 3 steak large strombolis, 40 baked wings (honey garlic, teriyaki) and I gotta tell you, the stuff was delicious- just so you know, Jeff Eats "tried" everything- and this joint's food was right on the money!
Now you guys and Jeff Eats both know that food "reviewing" is a totally subjective situation- what I like, you may find disgusting and vice versa! With that in mind, Jeff Eats and Mrs. Jeff Eats loved Anne Marie's food. No bs- here, free or "no" free (remember, Mike and Lynn paid) Anne Marie's stuff was exactly what a bunch of folks watching playoff -football games were looking for – if that makes sense to you?
Let me wrap this one up for you guys, football or no football- if you live or work near Anne Marie's you gotta try this joint!
You can check menu/prices info at annemariespizzeria.com.