* Which One Would It Be? ( Freddy's Frozen Custard & Steakburgers- Bradenton, Jacksonville, Ocala, Orlando Sarasota)
This story first appeared on July 2, 2013. Just a quick update…down below the "status" of Freddy's Frozen Custard & Steakburgers' Florida "build-out." Trust Jeff Eats when I tell you- that if you like fast food burgers/fries/custard- then you gotta try Freddy"s stuff! Absolutely delicious! Mark my words, this fast food burger chain which currently has 150 joints- is destined to become an absolute giant in the next few years!
1. Bradenton
7376 52nd Place East
Bradenton, FL 34203
941.755.1982
2. Jacksonville –
14016 Beach Blvd
Jacksonville, FL 32250
904.992.4760
3. Ocala-
3558 SW College Road
Ocala, FL 34474
352.512.0577
4. Orlando – Orange Ave – Coming Soon!
3200 South Orange Ave
Orlando, FL 32806
5. Orlando – Vineland Ave
8107 Vineland Ave
Orlando, FL 32821
407.238.2061
6. Sarasota –
6224 N Lockwood Ridge Rd
Sarasota, FL 34243
941.346.6919
_________________
Which One Would It Be?
Posted on July 2, 2013 · American Desserts Fast Food Music/Events/Other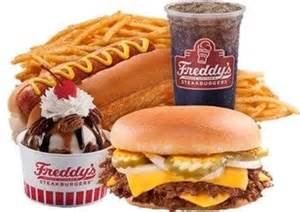 * Which One Would It Be?
If you "had" to eat in–just one…Which One Would It Be?
McDonald's
Wendy's
Burger King
Checkers
Sonic
By the way, here's a tip for you guys…Freddy's Frozen Custard & Steakburgers (fast food chain with locations primarily in the western states) is planning a major "push" into Florida starting in late 2013. For right now, Freddy's has no Florida locations.
Trust Jeff Eats on this one, Freddy's food is dynamite—better than all of the guys listed above, though I will tell you, that it's a real close call with Sonic. Just for the record, Jeff Eats "thinks" that Sonic is heads-and-shoulders above McDonald's, Wendy's, Burger King and Checkers…but please! don't let my pick-color your picks. For what it's worth, Jeff Eats thinks of Sonic as being the "child" that Burger King and Dairy Queen always wanted.
Check Freddy's out at www.freddysusa.com.
Anyway…until Freddy's arrives-to save the day ("line" courtesy of Mighty Mouse)-pick one from the list. If you got nothing better to do, feel free to elaborate on your pick.