Jaxson's Ice Cream Parlor to Announce the Winner of the Broward 100 Ice Cream Contest- The "Scoop of The a Century" (Dania Beach)
* Jaxson's Ice Cream Parlor to Announce the Winner of the Broward 100 Ice Cream Flavor Contest- The "Scoop of the Century."
The Broward County Office of Public Communications "asked" for some help-to spread the word about this event…so in the interest of doing its fair share of public service, Jeff Eats is printing the "below" pr-release! Between you guys and Jeff Eats, the whole thing seems a bit lame to me- but hey- what do I know? Personally, I'm thinking- 100th Anniversary, that at the least, the contest-winner should be getting 25 Kitchen Sinks for-4 over the next year!- and for all those who show up to sample Broward 100 ice cream- a $100 credit for psychiatric care -for running to Jaxson's for a-sample in the first place!-unless the sample being handed out is-shall we say 100 gallons!
Lame or not-lame, you guys do know that Jeff Eats is a big Jaxson's fan (check reviews) and that I am just fooling with you- about the need for psychiatric care…sure I am!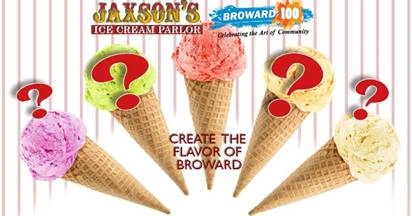 MEDIA ADVISORY
What:
Jaxson's Ice Cream Parlor to Announce the Winner of the Broward 100 Ice Cream Flavor Contest. The "Scoop of the Century" will make its debut.
When:
Tuesday, June 16th
10AM
Where:
Jaxson's Ice Cream Parlor and Restaurant
128 S. Federal Highway
Dania Beach
Details:
Broward County is celebrating its 100th birthday. For the last several weeks, Jaxson's Ice Cream Parlor has conducted a contest on Facebook asking followers to tell them what the new Centennial ice cream flavor, Broward 100, should taste like. More than 200 ideas were submitted and evaluated by a team of reviewers at Jaxson's.
The winner will receive an infamous Jaxson's Kitchen Sink dessert for 4. Broward 100 ice cream will be available at Jaxson's and during Duende, the Broward 100 grand finale weekend October 2-4, 2015.
Next Steps:
Tuesday evening, June 16th, between 5-8PM the public is invited to come to Jaxson's for a free sample of Broward 100 ice cream. Please help us communicate this invite to the community.
Media Contacts:
Jerry Smith, Jaxson's General Manager, 954-923-4445, jerryjaxson@hotmail.com
Shelly Turetzky, Broward County Office of Public Communications, 954-357-6994, sturetzky@broward.org