* Dave And Buster's & Jaxson's Ice Cream Parlour (Hollywood & Dania Beach, Respectively)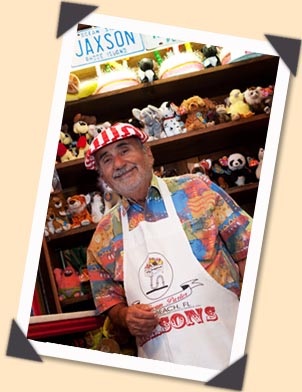 * Dave And Buster's & Jaxson's Ice Cream Parlour.
The other day Jeff Eats received the following e-mail…
"Jeff,
My husband and I have been reading Jeff Eats for years. We love the site and have tried many of the restaurants that you mentioned. We really enjoy your sense of humor and easy going writing style.
We were wondering if you could give us a fun idea for a Sunday outing for sometime in April.
Our daughter and son in law will be attending a business conference in Orlando and are going to leave their 10 year old son and 7 year old daughter with us on Sunday morning around 8am- with a pickup the following Monday night. We live in Delray Beach and would like to do something special with the grandkids on Sunday. We would prefer indoor activities.
Any help would be appreciated."
By the way, we are both 71 and in pretty decent shape.
Thanks,
MK
*****
MK: Got a perfect Sunday for you guys.
I think that you, your husband and both kids will love this…
Posted below are "reviews" for Dave And Buster's & Jaxson's Ice Cream Parlour. Dave- is in Hollywood and Jaxson's- is in Dania Beach—maybe 5-6 minutes drive from each other.
I would suggest planning on doing lunch/play at Dave And Buster's from 1pm-4pm and then doing Jaxson's from 4pm-5pm. It will be a fun day and the little tykes should be pretty exhausted-for the ride back to Delray Beach.
Have fun!
*****
Posted on April 24th, 2008 · American Dania Beach Desserts Fast Food
***** Jaxson's Ice Cream Parlour, 128 South Federal Highway, Dania Beach , Florida 33004, (954) 023-4445.
Jaxson's has been around something like 50 years. This is one of the greatest joints in all of South Florida, not to mention the United States, to get great home-made ice cream. The Food Channel has done several stories on Jaxson's.
Decorated in Early American License Plate, Jaxson's is located in a non-descript strip-shopping center in Dania Beach. The joint is packed day and night with people stuffing their faces with some of the most delicious ice cream that you have ever tasted. The portions are enormous and "individual" servings can feed 1-2-3 people. Jaxson's also does, burgers, hot dogs, salads etc., but the game here is ICE CREAM. Personally, my favorite is a waffle with a scoop of strawberry and a scoop of mocha chip. That single dish, is big enough to serve 2-3 people. Be smart and don't over order here, because (1) you will be wasting a ton of great ice cream and (2) you will be wasting a ton of money.
I am telling you that you absolutely positively want to try this joint. The ice cream and food are great…the atmosphere is terrific…the service is terrific…and the "penny candy" assortment at the front of the joint will have you reminiscing about 1950′s Brooklyn-Bronx-Queens (etc,).
There are always lines waiting to get in and for take-out. Jaxson's is open 7-days a week…Monday-Thursday 11:30am-11pm…Friday-Saturday 11:30am- midnight…Sunday noon-11p
*
Posted on July 27, 2008-American Hollywood
***** Dave And Buster's, 3000 Oakwood Boulevard, Hollywood, Florida 33020 (954) 923-5505.
Dave And Buster's is a national chain of American-casual dining restaurants that feature enormous bar areas and humongous indoor video/skill game arcades…and I do mean humongous.
"Let's cut to the chase"…the food is TGI Friday's quality…the game arcade (maybe 20,000 sq ft.) awesome…great place for kids…great place for teenagers…great place for almost drunk adults…great place for the hard of hearing…the noise in the play area is borderline deafening. Check Dave And Buster's website at www.daveandbusters.com for menu/hours/details.
For right now, Dave And Buster's has something like 40 locations. There are currently 3 in Florida… Hollywood, Miami and Jacksonville. I have been to the Miami joint once and the Hollywood location something like 15 times. Just so you know, these aren't sleazy joints…they are gorgeous, clean, well kept and very well supervised…think a Las Vegas Casino and you got the picture.
I am not hard of hearing…I don't really drink…so you figure out whay old Jeff Eats was at the Florida joints so much.
Dave And Buster's is open 7 days a week for lunch-dinner- late at night. By the way, Dave And Buster's always has some "special" for food/games which makes this a very value oriented joint.. If you go, make sure that you ask what deals are available.
By the way, the last time I played at Dave And Buster's I won something like 5,000,000 tickets and took home some really nice prizes…3 "Chinese finger puzzles"…you know, those 5 inch woven straw cylinders which you stick one finger from one hand in (at one end) and another finger from the other hand in (at the other end)…and then after all that work, you try and pull both fingers out…go figure.
Dave And Buster's is a great place for kids and teenagers…and "you" folks" who accompany those teenagers and kids, will probably enjoy the joint, just bring a few pieces of cotton for your ears and some Bayer Asprin… what we won't do for our children.