Orient Kitchen (Boca Raton)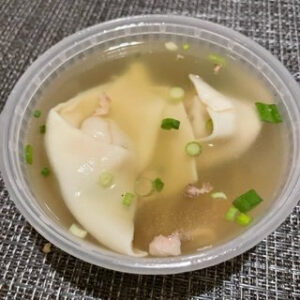 Orient Kitchen, 3013 Yamato Road, Boca Raton, Florida 33496, (561) 241-9933.
Two of the worst south Florida-Chinese restaurants that Jeff Eats has gotten food from are Orient Palace, 3013 Yamato Road in Boca Raton (reviewed: 7/6/08) and 5 Spice Asian Street Market (reviewed: 12/12/09), 1200 Yamato Road in Boca Raton. If you want, you can can check the reviews for yourself.
Anyway…
About a year ago, Orient Palace (which was a takeout) closed–and shortly thereafter re-opened with a "face-lift" and a new name -Orient Kitchen. Not sure on this, but I'm also assuming-new ownership for Orient Kitchen.
Anyway…
This evening -Jeff Eats got around to trying Orient Kitchen taking out…wonton soup, egg rolls, roast pork fried rice, pepper steak, sweet & sour chicken, bbq ribs…and I gotta tell you, every "dish" was lousy. As you know, it's kinda hard to describe "lousy"–so let's just say, that this joint's stuff wouldn't-even taste good if eaten cold the next morning!
In preparing this story, I reviewed Orient Kitchen's website www.orientkitchenboca.com for various info–and lo-and behold, the site invited me-to "also" visit the owners' other restaurant-5 Spice Asian Market.
Don't say Jeff Eats didn't worn you!
Gluttons for punishment, Orient Kitchen is open Monday-Friday 11am-9:30pm, Saturday noon-9:30pm, Sunday 4pm-9:30pm.