Argentinian Deli (Boca Raton)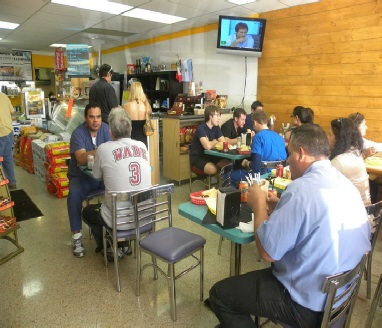 ***** Argentinian Deli, 501 Northeast 20th Street, Boca Raton, Florida 33431, (561) 672-9003.
Go figure!-and Jeff Eats thought that…Argentina was only-known for hiding World War II Nazi war criminals and a Broadway show about some dictator and his wife.
Well, you live and you learn-
The other day, Jeff Eats had an absolutely terrific-lunch at an Argentinian "fast food" joint- Argentinian Deli in Boca Raton. Just so you know, Argentinian Deli is part grocery store/part deli/ part fast food restaurant with a handful of tables.
Right off the bat, I gotta tell you that Argentinian Deli makes some of the best empanadas that Jeff Eats has ever eaten…The joint has 9 different "fillings"-with a $6 special that gives you 3 plus a can of soda. Jeff Eats had- ham & cheese, beef, chicken with vegetables—and like I said, I can't recall eating better ones down here in South Florida.
Argentinian's menu also has all kinds of breakfast stuff, appetizers, salads, sandwiches/subs, entrees, desserts.
Being the reporter that he is, in addition to those empanadas- Jeff Eats also "tried"- 6″ chicken milanesa sub ($6.99 inludes one side plus soft drink) and 10oz. vacio steak plate ($11.90 includes one side plus soft drink) and I'm telling you, like those empanadas- the food was amazingly good.
You can check www.argentiniandeli.com for menu/prices/photos.
Let me sum Argentinian Deli up for you…
Part grocery store/part deli/part fast food restaurant.
The food is dynamite and dirt-cheap.
The joint is a HOMERUN!
Argentinian Deli is open Monday-Saturday 9am-7pm, Sunday 8am-2pm.
Finally, if Argentinian's food is indicative as to what food in Argentina is/was all-about—Jeff Eats can appreciate why those Nazis ran there!