Bruce's Of Great Neck (Boca Raton)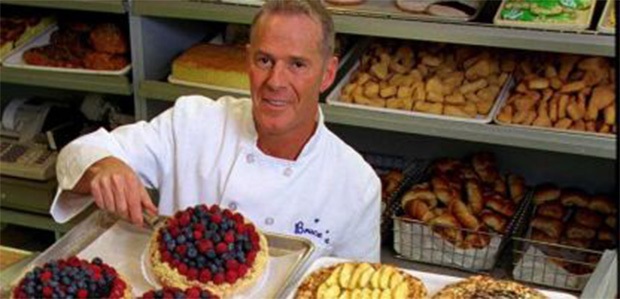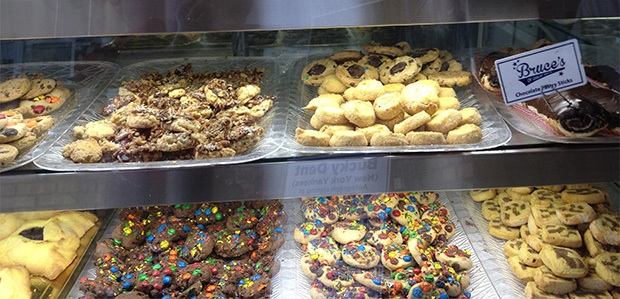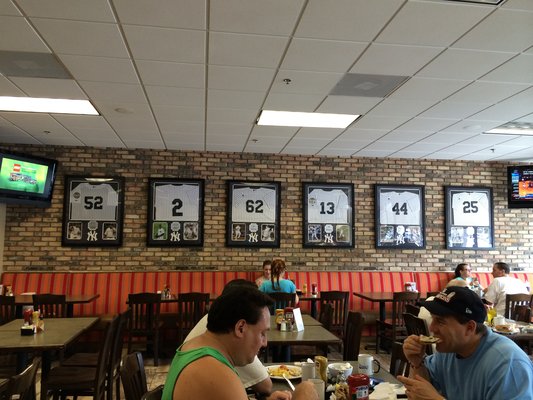 ***** Bruce's Of Great Neck, 19575 South State Road 7, Boca Raton, Florida 33498, (561) 483-2331.
Here's a heads up for you guys…
From 1970-2012 a guy named Bruce Zipes owned/operated a series of bakery/deli restaurants in Long Island and New York City under the name Bruce's Bakery & Restaurant…talk about-terrific cakes, cookies, pastries, bagels, breads…
Anyway…
Jeff Eats has absolutely no idea as to why the last NY-Bruce's closed in February 2012…what I do know, is that about four months ago, Bruce Zipes ("Bruce") bought the Mitch's Westside Bagels Too (reviewed 2/9/09) Boca Raton store, renaming it Bruce's Of Great Neck. Like Mitch's, Bruce's Of Great Neck does breakfast/lunch 7 days a week–open 7am-3pm.
Just so we are straight, 1991 was the last time that Jeff Eats "ate" stuff from Bruce's New York outposts. For the purposes of this column, I'm gonna assume that Mr. Zipes still knows how to bake- but then again back in '91 Jeff Eats had a 33 inch waist and wore a 15-31 shirt.
To make a long story short, yesterday I stopped by Bruce's Of Great Neck around 3pm just as the store was closing for the day. My sole purchase was a bakers dozen of bagels—and I gotta tell you, that the everything/garlic/onion/pumpernickle/whole wheat were -really good…I will also tell you, that Bruce's display cases were filled with great looking cookies, cakes, pastries, rolls.
For those of you-not familiar with Bruce's New York business–it was an extremely popular bakery/New York kosher-style deli. For the record, Jeff Eats "knows" about the baked goods–but never ate in any of the restaurants. Just so you know, Bruce's was "famous" for its complimentry bread basket which had all kinds of rolls and pastries-that was served in the restaurant…now, not to get all nostalgic or nothing, but "think" Wolfie Cohen's Rascal House in Sunny Isles Beach–Senior's Restaurant in Brooklyn–Junior's Restaurant in Brooklyn–Cooky's Restaurant in Brooklyn and you'll appreciate why Bruce's had a huge New York following.
The big question: Is Zipes' plan to make Bruce's Of Great Neck "like" Bruce's Bakery & Restaurant namely 1/2 bakery–1/2 deli…or is the plan to keep the "generic" bagel formula that Westside had?
Let's wrap this one up…first, if you are confused by all of the Bruce's here, me too!- second, you guys now know about Bruce's Of Great Neck a new "?" in Boca Raton.
Jeff Eats has Bruce's on his "try" list. I'll keep you guys posted as to what's what!
***** UPDATE: April 9, 2014…
This morning, Jeff Eats and Mrs. Jeff Eats finally got a chance to "get over" to Bruce's for breakfast.
Real simple order… western omelet/home fries/toasted-everything bagel and an American cheese omelet/home fries/toasted onion bagel–all A-OK! When we sat down, the waitress delivered a complimentary plate of "baked goods" samples–which was a real nice touch. When leaving, we purchased a chocolate babka and I gotta tell you, the babka was off the chart–absolutely delicious. We also "took home" 1-lb. of chicken salad, 1-lb. of tuna salad -really good stuff. On prices/service–South Florida bagel store-norm. One strange thing, we also took home a mixed dozen-bagels and I gotta tell you these "13" weren't as good as the bagels we had gotten back in December. Now nothing for nothing, they weren't terrible or anything like that- but I can name right off the top of my head 11 Boca Raton-Delray Beach bagel joints that make better ones. Sorry, but I can't explain why the "batches" were different. Hopefully, Bruce's will figure this-puzzle out.
Trust Jeff Eats on this one, Bruce's Of Great Neck is a real good (that's assuming the bagel "puzzle" is figured out) bagel-deli!
You can check menu/prices at www.brucesofgreatneck.com
Bruce's is open 7 days a week 7am-3pm.