Farmer's Table (Boca Raton)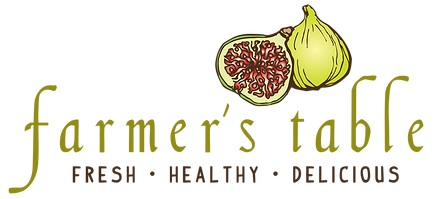 * Farmer's Table, 1901 North Military Trail, Boca Raton, Florida 33431, (561) 417-5836.
Got something that you guys might-want to checkout…
Farmer's Table-a spanking-brand new breakfast-lunch-dinner "healthy" restaurant that is set to open in Boca Raton on November 27, 2013.
Now nothing for nothing, the term "healthy" is a very subjective word–so I'm gonna let you read a PR piece which Jeff Eats recently received on the restaurant…hopefully, you'll get some idea as to what Farmer's concept is all about. You can also check www.farmerstableboca.com for menu/prices to further enlighten you on what Farmer's Table plans on cooking (pun intended) up for its patrons.
Just so you know, Jeff Eats plans on trying this joint sometime in the next 30 days, so if you get there before I do, write me and give me the skinny. By the way, Jeff Eats' plan for "testing" Farmer's Table includes having Mrs. Jeff Eats and Daughter Jeff Eats on premises–as they are huge fans of "healthy" cooking/foods (whatever that constitutes)–and will guide me in- writing a fair and accurate review for you, my beloved readers.
Before you get to that PR piece, Farmer's Table is owned/operated by Boca Raton resident–Michael Robbins who if you do some "googling"- "binging" – "yahooing" has quite a diversified business background in real estate development, motion picture production, hotel ownership/operations. Just call it a hunch, but Mr. Robbins' (who is also heavy-into philanthropic endeavors) latest business venture may-be more about "YOU" eating, good-fresh-healthy "prepared" food than- his making a boatload of money.
Anyway…here's that PR piece-
*****
Farmer's Table, Boca Raton's Largest Health-Focused Restaurant, Taps The Gab Group As Agency Of Record
BOCA RATON, Fla., Nov. 13, 2013 /PRNewswire/ — Wyndham Boca Raton Hotel Owner Mitchell Robbins and Chef Joey Giannuzzi, co-founders of Farmer's Table restaurant, have appointed award-winning brand communications firm The Gab Group as agency of record. Through public relations, marketing, branding, social media and web design, The Gab Group will promote Farmer's Table as the healthy and affordable dining destination that the local market has long awaited.
Opening November, Farmer's Table will serve nutritious and flavorful cuisine for breakfast, lunch and dinner, along with natural cocktails. Dishes center on fresh, whole, seasonal ingredients, devoid of excess salt, fat, processing, toxins and all the other extras you don't want. The restaurant doesn't have a deep fat fryer or microwave. The menu accommodates diets like gluten free, Paleo and vegetarian. Wilson Wieggel serves as executive chef.
Featuring a warm, earthy ambiance, Farmer's Table offers 200 seats, including alfresco and private dining. Robbins and Giannuzzi will host events and educational activities to establish the restaurant as a wellness hub in the community.
"Finally, Boca will have a place to go for healthy food that's delicious and approachable for the whole family," Robbins says. "Combined with the new wellness offerings at the Wyndham, like yoga classes and TrendTea lounge, Farmer's Table is poised to be a true community gathering place."
Farmer's Table Cafe will offer quick, healthy meals to go. Customers can avail themselves of ample parking and opt for daily premade or made-to-order health-centered dishes.
Farmer's Table is now accepting reservations for Wednesday, Nov. 27 and beyond. Farmer's Table is located at 1901 N. Military Trail, Boca Raton, adjacent to the Wyndham Hotel. Hours of operation are 7 a.m. to 10 p.m. Monday through Friday, 10 a.m. to 10 p.m. Saturday and 10 a.m. to 9 p.m. Sunday. Farmer's Table Cafe is open from 7 a.m. to 3 p.m. Monday through Friday. For reservations or more information, please call 561.417.5836 or visit www.farmerstableboca.com.
About The Gab Group
Founded in 2004 by PR Visionary Michelle Soudry, The Gab Group is an award-winning brand communications agency specializing in local and national restaurant, hospitality, celebrity and luxury lifestyle accounts. Proudly ranked "Top 18 PR/Marketing Agencies in South Florida by the South Florida Business Journal. For more information, visit www.thegabgroup.com.