Chef Chen Chinese Restaurant (Miami/Kendall)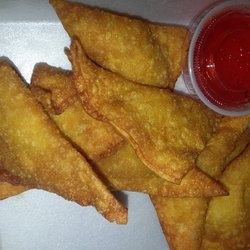 ***** Chef Chen Chinese Restaurant, 11557 North Kendall Drive, Miami, Florida 33176, (305) 274-6799.
Who in a million years would'a figured…Kendall has one of the best Chinese restaurants in all of South Florida!
Now nothing for nothing…Jeff Eats is talking "1950's Brooklyn-Jewish stuff" and not the "authentic" Chinese (whatever the hell that is?) that many of you food experts fancy…no seasoned squid or spiced jelly fish for this 1966 Erasmus Hall High School alumnus.
Jeff Eats is talking…wonton soup, egg rolls, pan fried dumplings, spare ribs, roast pork fried rice, pepper steak, sweet & sour pork, shrimp with black bean sauce, chicken chow mein, honey garlic chicken, vanilla/chocolate/strawberry ice cream, pineapple chunks dessert.
The other night, Jeff Eats, Mrs. Jeff Eats and another couple gave Chef Chen a shot for dinner…Like I said 19 seconds ago, some of the best Chinese food that Jeff Eats has eaten in South Florida.
Just so you know, everything we had was delicious…That said, knowing my crowd- I know that some of you need a pecking-order…let's just say, that if-when– you eat at at Chef Chen's. make sure you get the ribs and shrimp with black been sauce…hope that helps you out!
Neighborhood Chinese restaurant prices and service…Your shorts/tee shirt/sneaker ensemble will work well there.
Just a quick comment, many YELPERS out there have to learn, that limited knowledge of a foreign language (in this case English) doesn't necessarily mean that the Chinese "help" is indifferent, rude, nasty—it just means, that the "person" can't be as engaging or witty or endearing as your 25 year old minds think they should be!
You can check menu/prices at www.chefchenchinese.com.
Chef Chen Chinese Restaurant is open Sunday-Thursday 11:30am-10pm, Friday-Saturday 11:30am-10:30pm.