**** SEMINOLE HARD ROCK ROCK 'n' ROLL BEER-B-QUE *****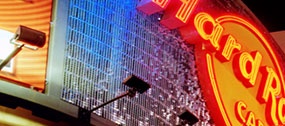 ***** SEMINOLE HARD ROCK ROCK 'n' ROLL BEER-B-QUE *****
Back on May 31 2012 Jeff Eats "ran" the story listed below.
Looks- like it's going to be an awesome event. AND–Jeff Eats will be one of the judges.
When you read the Press Release- you'll notice that ONLINE ADVANCE TICKETS were originally priced at $35…and, DAY OF TICKETS were priced at $45. Well, a few days ago, the sponsors lowered the ONLINE ADVANCE TICKETS to $25. If you want to buy tickets online–go to the event's website-and put 10OFFGA in the PROMOTIONS CODE BOX and you'll save yourself 10 bucks off that $35 ticket.
If this type of "thing" is your bag…hope to see you there!
*****
Don't have all of the details yet…from what I "gather" there is going to be a huge outdoor BBQ-BEER-MUSIC event at the Seminole Hard Rock Hotel & Casino in Hollywood, Florida on Saturday, June 30th from 4pm-8pm.
Take a look at the "press release" I just received. Let me do some further checking and I'll update you guys with details.
This one looks like it–could really be fun!!
*****
Eat BBQ, listen to R&R, drink beer! (http://www.seminoleparadise.com/beerbque/index.html)
The second annual Seminole Hard Rock Rock 'n' Roll Beer-B-Que, presented by New Times, gets grilling on Saturday, June 30 and if you like to have your meat smoked you're not going to want to miss out on this event.
From 4 – 8 p.m., over 40 of south Florida's best barbeque restaurants will compete by showcasing their grilling skills. Best of all, you get to try as many as you can — and vote for your favorite.
But meat is just one part of this trifecta of flavor because there's no such thing as a Beer-B-Que without beer! Feel free to sample beer from a variety of popular brands, as well as craft beers from micro-breweries. Beerfest 2012 winners Misfit Home Brewers will be among the top brewers pouring their wares at the Beer-B-Que.
While all this is going on, get your groove on and rock out to live music from several local bands.
Tickets for the Rock 'n' Roll Beer-B-Que are on sale now and only $35 in advance ($45 at the door). A limited number of prepaid VIP tickets will be available for $70, offering one-hour early admission, seating in the air-conditioned VIP tent, access to an open bar with wine provided by Rex Goliath, special entertainment, and more.
*****
June 22, 2012 UPDATE
The word of mouth about this event is really spreading. Based on what I'm hearing here in "food blogland" is that a crowd of between 2,500 -4,000 is expected. Don't have exact ticket numbers, but a very reliable source told me that online sales have been excellent and assuming good-weather, "day of" ticket sales will be extremely strong.
If you check the event's website you will find an updated list of "contenders."
The way I see it, you really can't go wrong spending $35-$45 for all the bbq you can eat–all the beer you can drink–all the Rock N Roll music you can hear. Just last night, Jeff Eats and Mrs. Jeff Eats and Son Jeff Eats ate at a sports bar. The bill $86 for 2 salads, 1 cheeseburger, 1 bbq steak sandwich, 1 chicken pot pie, 1 Coke and 3 beers. Get the picture? The only "negative" thing I see here, is the possibility of lousy weather. If the weather breaks the right way, this event is going to be an absolute homerun. By the way, I also heard that a "ton" of those $70 VIP tickets were sold. Not a bad deal, extra hour of partying–air-conditioned tent, open bar.
On the music front, I don't have a complete list of the "entertainers" but, I understand that national recording artist and one of South Florida's hottest bands "GHOST OF GLORIA" is scheduled as one of the headliners.
Oh! One other thing…Jeff Eats will be one of the judges.
**** Here's a "gift" from Jeff Eats—if you want to buy your tickets online–enter 10OFFGA in the Promtions Code box and you'll get 10 bucks off that $35 ticket.
Hope you guys can make it. AND if you aren't a disgruntled restaurant owner, make it your business to say hello to me.
UPDATE: July 2, 2012
***** THE WINNERS *****
Here's a list of the winners from the event Saturday:
Best Brisket: Bokampers
Best Ribs: Bokampers
Best Pork: Hard Rock Cafe
Best Chicken: Smokey Bones
Best Overall: Hard Rock Cafe
Most Unique: Whiskey Tango
Fan Favorite: Bokampers