***** Jake's Wayback Burgers (Coconut Creek, Sarasota) *****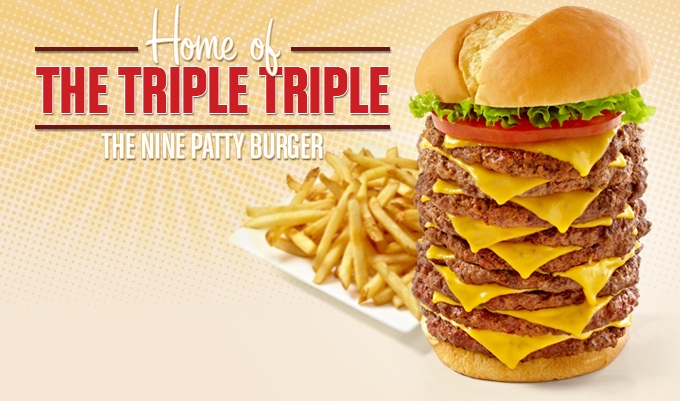 ***** Jake's Wayback Burgers *****
I know that some of you guys like to be kept in the "loop." So, with that in mind…I just heard that "fast-food" hamburger chain–Jake's Wayback Burgers which currently has 10 Connecticut–9 Delaware–13 Pennsylvania–1 Indiana–1 Massachusettes–2 Maryland–4 North Carolina–5 New York–1 Ohio is planning on opening 2 Florida joints in the next couple of months…4690 State Road 7, Coconut Creek and 8201 South Military Trail, Sarasota.
If you aren't familar with this chain, trust me, you aren't alone. Jeff Eats had never heard of Jake's until last week when I gave its Long Beach, New York outlet a shot. If you want to go further, you can check www.waybackburgers.com for menu/prices/locations.
Now, you know and I know that "upscale" fast food burger joints are literally popping up on every American block. Absolutely no question in my mind, that the day of reckoning is quickly approaching–when the American public is going to tire of most of these joints and tons of franchisees are going to get wiped out. That said, until that reckoning-day arrives, there is no reason whatsoever- why I, Jeff Eats can't eat myself into a 48 inch pair of pants and a 22 inch shirt.
Jake's menu has got it all…burgers, franks, fries, onion rings, salads, milkshakes.
For the record, I did a 2-patty cheeseburger, french fries, coffee and chocolate milkshakes…the burger/fries were good-not great. Assuming that the Jake's "coming" to Coconut Creek is-like the one I tried in Long Beach–I'm not really sure it will be able to "handle" the likes of Five Guys, CG, BurgerFi, Elevation which all have joints near the Coconut Creek outlet. That said, I will tell you, the milkshakes were outrageously delicious.
So for right now, the bottom-line on the Coconut Creek joint…we'll just have to wait and see "what the story is" after it opens.
Jeff Eats' real concern with these "new" burger joints is-that a 22 inch neck shirt is rapidly approaching.
Anyway…you guys are now in the "loop."
***
June 18, 2012…
Just wanted you guys to know, that about a week or so ago–I tried the new Jake's Wayback Burgers in Coconut Creek…had a double cheeseburger with french fries. The burger and fries were good. Nothing for nothing, they definitely weren't best of breed-but for sure, I've tasted a whole lot worse.
As I've told you guys in past burger "stories"–the upscale fast food burger space is being over-loaded with players. Can't give you a firm date, but in the very near future a ton of these "guys" are going to be folding their tents. I seriously doubt, that the Coconut Creek "area" where Jake's just opened can successfully support Jake's, Five Guys, Elevation, BurgerFi, CG–not to mention McDonald's and Steak N Shake. For the sake of the franchisees involved, I sure hope that I'm wrong–but I don't think so.