Cosmos Cafe & Pizzeria (Naples)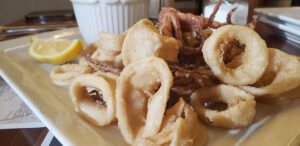 ***** Cosmos Cafe & Pizzeria 536 Tamiami Trail, Naples, Florida 34102, (238) 262-8181.
First, who here remembers Cosmo Topper?
Cosmos Cafe & Pizzeria…a good "mom & pop" red sauce Italian joint in Naples. Check www.cosmospizzanaples.com for menu/prices—you'll also find a handful of pictures that will "tell" you what Cosmos' indoor/outdoor patio setup is all about.
Recently did dinner at Cosmos…the joint's menu is loaded with all types of pizzas, salads, appetizers, pastas, meat/chicken/seafood entrees. Tried, 16″ plain pizza, fried calamari, meat lasagna, penne a la vodka, chicken marsala, filet of sole. For the record, the pizza was thin/crisp/sweet red sauce—just like Jeff Eats likes it. The fried calamari was ok-but nothing to get nuts over. The meat lasagna and penne a la vodka were delicious-the chicken marsala and filet of sole were good but I've had better, but then again, I've had worse.
Let me sum Cosmos Cafe & Pizzeria up this way…a good "mom & pop" red sauce joint. Nothing outrageously great going on here. That said, I loved the indoor decor and the outdoor patio setup–service was as friendly as could be–reasonable pizza joint prices–all-in-all, the kitchen definitely "got" the job done.
Cosmos Cafe & Pizzera is open Monday-Saturday 11am-close, Sunday 4pm-close.