Elevation Burger (Coral Springs, Miami, Miami Lakes, Pembroke Pines, Fort Myers)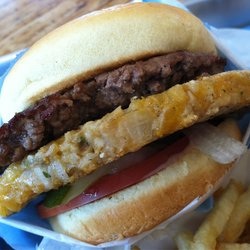 ***** Elevation Burger, 2908 University Drive, Coral Springs, Florida (954) 796-1999.
Elevation Burger…for our purposes- small fast food "upscale" burger chain (currently in 10 states) with 5 Florida locations.
You know and I know that this burger-craze thing can't go on forever. Literally, it seems that every day or so a new "brand" opens somewhere in South Florida. No need to list the major players, you know who they are.
Anyway…Elevation Burger's "hook" is that its hamburger meat is "organic" and that its fries are done in olive oil. To be perfectly honest with you, Jeff Eats' burger/fries game is based on TASTE—does the stuff taste good. Now for you guys who are into "eating healthy or at least healthier"—you can go to Elevation's website www.elevationburger.com and read its story/menu-prices.
Now let's get down to brass tacks…
Last week I ate lunch at the Elevation Burger joint in Coral Springs. Did just a basic Jeff Eats' lunch—cheeseburger/french fries/Coke. Now nothing for nothing, the burger and fries were as good, if not better than the stuff I've had at "players" like Five Guys, BurgerFi and Shake Shack. To be perfectly honest–I have absolutely no idea if Elevations' delicious burger "resulted" because some cow in Nebraska was hand fed organic grass by some leprechaun-or whatever! What I do know, is that the cheeseburger was dynamite-same for the fries. I also know that I would definitely eat at Elevation Burger again…and unless I'm totally missing something, the Coral Springs' franchisee has accomplished his mission here, that being having made Jeff Eats a satisfied customer.
Like I said a few seconds ago, my game in burger/fries is TASTE…and Eleavtion's food tasted real-good.
Elevation Burger is open Sunday-Friday 11am-9pm, Saturday 11am-10pm.