Gyroville (Boca Raton, Fort Lauderdale, Pembroke Pines)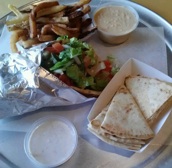 ***** Gyroville, 2240 Northwest 19th Street, Boca Raton, Florida 33431, (561) 353-9265.
Gyroville…fast food Greek joint. Order/pickup at counter.
The other day, I had "dinner" at the Gyroville outpost in Boca Raton. Unless you're Telly Savalas, you're probably gonna need a GPS to find this joint as it's located in the elbow-of a shopping center that's in a horrendous location. The Boca store opened about 6-weeks ago…there are currently 2 other locations, one in Pembroke Pines and another in Fort Lauderdale. According to its menu, another- Fort Lauderdale location is set to open later this month. I guess, business is good—You can check menu/prices at www.gyroville.com.
To make this one short…I really enjoyed the food. A "sampling" of pork souvlaki, chicken souvlaki, grilled chicken, skirt steak—all, right on the money. I also thought that that the joint's hummus and tzatziki were delicious. For those "totally" not on a diet, the baklava was worth the calories.
Like I said before, this is strictly a fast-food joint. Nothing fancy–just solid, really good, reasonably priced stuff.
Gyroville is open Monday-Saturday 11am-10pm and Sunday 11am-9pm.