House of Sun (Miami Lakes)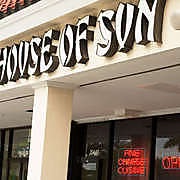 ***** House of Sun, 15440 Northwest Court, Miami Lakes, Florida 33016, (305) 822-2613.
House of Sun…real good "mom & pop" Chinese joint in Miami Lakes.
You can check menu/prices at www.urbanspoon.com.
House of Sun has all of the "expected" stuff…you know—egg rolls, pan fried dumplings, bbq ribs, wonton soup, roast pork fried rice, shrimp with lobster sauce, pepper steak, honey garlic chicken, plenty of dinner/lunch specials (soup-appetizer-entree-rice-dessert), chocolate/vanilla/pistachio ice cream, almond and fortune cookies.
Trust me on this, House of Sun isn't re-inventing the wheel here. That said, "every" item above was tested– handily passing Jeff Eats' Jewish-Brooklyn Chinese Food Taste Test.
If you live in Miami Lakes (Or is it really- Hialeah, only ex-Senator/Governor Bob Graham knows for sure?), you now know about a really good Chinese joint for eat-in/takeout.
House of Sun is open Sunday 11:30am-10pm, Friday-Saturday 10:30am-11pm.