Ruby Chen's (Fort Lauderdale)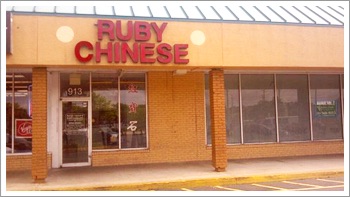 ***** Ruby's Chen's, 913 West State Road 84, Fort Lauderdale, Florida 33315, (954) 525-2533.
Ruby Chen's is a Chinese takeout joint…it has the obligatory Chinese takeout joint "handful" of tables, but the game here is TAKEOUT.
You can check menu/prices at www.rubychens.com.
Based on a recent "outing" of wonton soup, bbq ribs, fried dumplings, egg rolls, sweet & sour chicken, shrimp with lobster sauce, beef with black bean sauce, roast pork fried rice…I can safely report that Ruby's food isn't half bad. Nothing to go nuts over, but if you live or work in the neighborhood, you could do far worse.
Ruby Chen's is open Monday-Thursday 11am-10pm, Friday-Saturday 11am-11pm, Sunday noon-10pm.