Panna Cafe Express (Weston, Doral, Hollywood)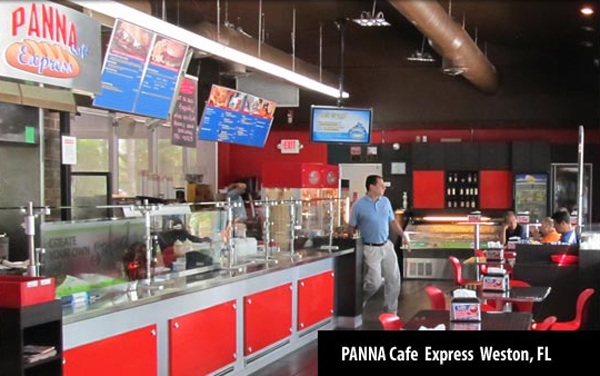 ***** Panna Express Cafe, 2620 Weston Road, Weston, Florida 33331, (954) 217-6907.
What a great idea…put a"fast food" joint with a Latin Flair– with limited seating in a gas station/car wash. Sounds real appetizing doesn't it? Trust me, old Jeff Eats was on the same page as you guys, until I tried Panna Cafe Express in Weston. By the way, in addition to the Weston outpost, there are two other Panna joints one in Doral and one in Hollywood.
At this stage of the proceedings you can check www.pannacafe.com for
menu/prices/sundry items.
Let me make this one short and to the point…Panna Cafe Express is a "homerun"…The joint has a menu loaded with breakfast stuff, salads, wraps, subs, burgers, baked goods, empanadas, cachitos. A recent "outing" had me trying…1/2 lb cheeseburger/french fries/beverage ($8.49), tuna salad wrap ($6.59), beef empanada (2-$1.49), turkey sub ($8.49)…now, I may be going out on a limb here, but the burger was as good as the ones I get at Five Guys. The wrap and sub were delicious–same goes for those beef empanadas.
The beautiful thing here…tank of gas, upscale car wash, great food.
The Weston location is open 24 hours a day/7 days a week. Hollywood is open Sunday-Thursday 6am-midnight and Friday-Saturday 4am-midnight. Doral is open Monday-Wednesday 6am-midnight, Thursday-Saturday 6am-4am and Sunday 8am-10pm.