Shinju Japanese Buffet (Boca Raton, Coral Springs, Davie, Pembroke Pines, Miami)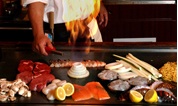 ***** Shinju Japanese Buffet, 7875 Glades Road, Boca Raton, Florida 33434, (561) 488-4040.
Shinju Japanese Buffet…small-chain currently with outposts in Boca Raton, Coral Springs, Davie, Pembroke Pines and Miami. Check www.sushishinju.com for menu/locations.
Recently tried its newest location– which opened about 1-month ago in Boca Raton. Terrific assortment of Chinese/Japanese soups, hot/cold dishes, sushi-sashimi, desserts…habatchi and stir fry stations.
Now-I know that this "is" a Japanese buffet—but, I gotta tell you, that the wonton soup was absolutely delicious and the bbq ribs were some of the best that I've had in a very long time. I'll even go as far and say, that these 2 items alone, make the price of admission (figure 20 bucks a head for dinner) worth the price. Just so you don't think I'm a shill for this joint, the sesame chicken was just passable, same goes for the teriyaki chicken.
All in all… Definitely one of the better Japanese/Chinese buffets that old Jeff Eats has tried.
Shinju is open Monday-Sunday for lunch 11:30am-3:30pm, Sunday-Thursday for dinner 5pm-10pm, Friday-Saturday 5pm-10:30pm.