Tutti Frutti Frozen Yogurt (Sunrise, Orlando, Port St. Lucie, Winter Park)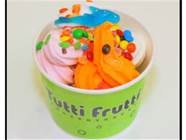 ***** Tutti Frutti Yogurt, 12801 West Sunrise Boulevard (Sawgrass Mills Mall), Sunrise, Florida 33323, (954) 845-0881.
Yesterday–Sunday, November 28, 2010 I was in Sawgrass Mills Mall. My bride of some 35 years actually convinced me, that Sawgrass Mills Mall at 3:30pm wouldn't be "that busy" and "parking wouldn't be a problem." Just so you know, in my day, I've also bought the Brooklyn Bridge 4 times.
Tutti Frutti Frozen Yogurt is a national chain (currently in 16 states)…it is in the self-serve yogurt business. The game–loads of flavors- you fill a cup with yogurt/toppings and pay by the ounce. Tutti Frutti recently opened an outlet in Sawgrass Mills Mall…for right now, for our puposes- it also has joints in Orlando, Port St. Lucie, Winter Park and has stores scheduled to open in Boca Raton and Aventura. The Sawgrass location gets 49 cents per ounce.
You can check www.tfyogurt.net for locations/flavors.
Just for the record, I had a cup of green-tea and a cup of cookies n' cream… Let's just say neither here nor there. OK, but not the "best" that I've had. Personally, I may not be the best yogurt-judge going, as I think, a Dairy Queen chocolate-heath bar blizzard is the da' bomb…same goes for Carvel's chocolate flying saucer.
Deja vu…These- self serve yogurt joints seemingly are popping up everywhere you look. Kinda reminds me of the video-store business that eventually was "conquered" by Blockbuster, talk about an emperor with no clothes. Hopefully your favorite "player" has some staying power, because sooner or later—there are going to be a whole load of empty storefronts waiting for the next f-a-d.
You now know about another player in the self-serve yogurt game.