Cup 'N Saucer Restaurant (Lake Worth)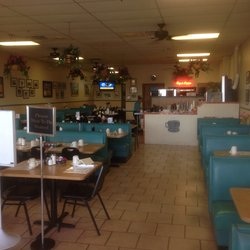 Cup 'N Saucer Restaurant, 6169 Jog Road, Lake Worth, Florida 33467 (561) 966-4997.
Just had Sunday breakfast at Cup 'N Saucer– a "mom & pop" breakfast- lunch diner located in Lake Worth.
Based on the breakfast that Jeff Eats had…how this joint has managed to stay in business for something like 20 years is beyond me.
My order was quite simple…western omelet/hashbrowns/plain toasted bagel. The omelet was so salty that it was borderline inedible… The hasbrowns were undercooked, with the potatoes being nearly raw. The bagel tasted like a piece of whitebread. This was probably the worst breakfast that I've had down here in South Florida. By the way, my friend Mike who joined me for breakfast had a farmers omelete (sausage,onions, peppers, tomatoes & cheese) found his omelet to be oversalted-the hasbrowns undercooked and his english muffin to be tasteless. Just for the record, both Mike and I left something like 90% of our breakfasts untouched…22 bucks down the drown.
Look, I'm no cook…what I do know, is that over the years I've eaten tons of omelets and the "things" that we were served- were bad-news. I wasn't back there when they were being cooked, but I suspect that the "cook" making these things, scrambled a few eggs and then shoveled the filings between the folded eggs. That's not how omelets are suppose to be made. Rather than playing Julia Child and waste everyone's time here, trust me on this one…the omelets were disgusting—same for the potatoes—same for the english muffin and bagel. I believe the rule is 3-strikes and your are O U T.
One of my favorite things, is a "leisurely" Sunday breakfast…you know what I'm talking about—when you go to a diner and just take your sweet time eating a large-breakfast. Well, this morning—Mike and I couldn't get out of this joint fast enough.
If breakfast was any indication of what this Monday-Friday 6:30am-2pm, Saturday-Sunday 7am-3pm breakfast-lunch joint is all about…how it has stayed in business for 20 years should rank as the "Ninth Wonder Of The World."
To be fair. The joint is clean—and service was pleasant and competent. I must also tell you, that at 10:15 am the joint was very busy. Could I be wrong here? NOPE— the food was atrocious!