C.R. Chicks (Boca Raton, Palm Springs, Wellington, West Palm Beach, Palm Beach Gardens, Jupiter)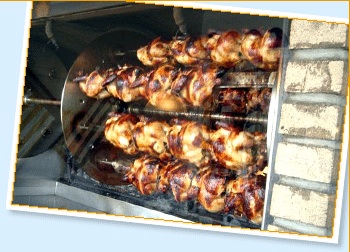 ***** C. R. Chicks, 2240 Northwest 19th Street, Boca Raton, Florida 33431, (561) 33431.
C. R. Chicks is a takeout/eat in "rotisserie chicken" joint…if you do some checking, on October 1, 2008- I gave this South Florida chain an absolutely rave-review. Back then C.R. had 7 locations—in about 8 hours-32 minutes a Boca Raton store will be added to the lineup.
Last night, C.R. Chicks' Boca joint held a "Private Grand Opening Party" where a chance to try EVERY item on the menu was there for the taking…and I took! In no particular order—chicken, meatloaf, potato pancakes, mashed potatoes, brown rice, chocolate chip cookies, primavera linguine, apple pie, chocolate banana cream pie, caesar salad, bbq pulled chicken sandwich, brown rice, cole slaw. I was like a pig that died and went to heaven.
Let me make this "update" as simple and short as possible—C. R. Chicks makes terrific rotisserie chicken–in addition, there are delicious soups, salads, sandwiches, pastas, sides, desserts—and a meatloaf that will make you forget the one that your mom made/makes (I'm assuming she made/makes a real-good one).
You can check menu/prices/photos/locations at www.crchickswpb.com.
For those of you out there who swear by Costco's rotisserie chicken…GET REAL!
C.R. Chicks is a winner!
C.R. Chicks is open 11:30am-9pm–7 days a week.