Big Foot Gyro & Subs (Dania Beach)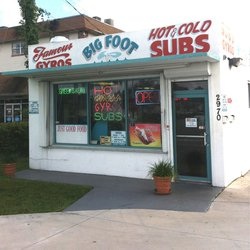 ***** Big Foot Gyro & Subs, 2970 Griffin Road, Dania Beach, Florida 33312, (954) 961-1160.
This joint's name…Big Foot Gyro & Subs- should give you a "hint" as to what this order at/pickup at the counter- free standing-hole in the wall restaurant is all about.
Check www.bigfoot4u.com for menu/prices/photos.
Big Foot has the expected full-boat of hot/cold subs…the kicker, it also has a load of Greek salads-plates, gyros and pita sandwiches.
A recent outing had me doing…chicken salad sub (large-$7.49), meatloaf sub (large- $7.49), gyro sub (large-$8.50), chicken gyro on pita bread ($6.99), steak/onion/peppers sub (large-$8.49)…every sandwich was delicious. Great fillings and fresh baked bread.
This is one of the best sub joints that I have been in–down here in old South Florida. Throw in the Greek "spin" and this joint is a big-winner.
Big Foot is open Monday-Friday 7am-7pm, Saturday 7am-3pm, closed on Sunday.