Mr. M's Sandwich Shops (Dania Beach)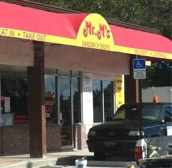 ***** Mr. M's Sandwich Shops, 1975 Stirling Road, Dania Beach, Florida 33004, (954) 925-6400.
Mr. M's…order at/prickup at the counter sub shop…plenty of indoor seating.
Mr. M's Sub Sandwich Shops makes outrageously delicious subs. Check www.mrmssubs.com for menu/prices.
A recent outing had me "doing" tuna salad sub, chicken salad sub, philly cheese steak ,chicken parmesan sub…like I said, outrageously good. The joint has the full gamut of hot and cold subs– sandwiches and salads.
This is one of the best sub shops that I've been to- down here in South Florida.
Mr. M's is open Monday-Saturday 8am-8pm and Sunday 11am-6pm.