Yogurtland (Coral Springs, Pembroke Pines, Winter Park)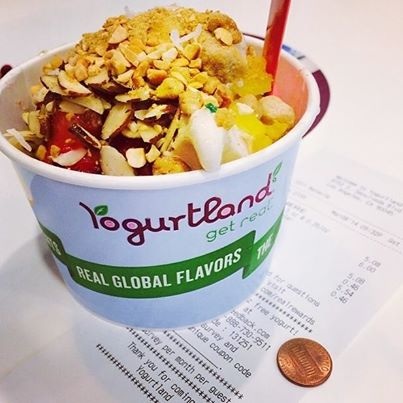 ***** Yogurtland, 2806 University Drive, Coral Springs, Florida 33056, (954) 354-0611.
When it rains, I guess it pours…one cupcake joint opens, another cupcake joint opens…and another and another and another…one self-serve yogurt joint opens, another self-serve yogurt joint opens—
Yogurtland is a "self serve" yogurt chain. Check www.yogurt-land.com for flavors/locations…for right now–for our purposes, there is a Yogurtland in Coral Springs, another in Pembroke Pines, another in Winter Park…but rest assured, in the coming months, many-more Yogurtlands will be rolled out.
I tried the Yogurtland in Coral Springs 3- Saturdays ago. I got there about 3pm and there must have been 30-35 people in the store getting yogurt. There were also 10-15 sitting outside eating yogurt…I "watched" the store for over 30 minutes and the folks just kept coming in…The way it works, you get a big cup—fill it with any combination of yogurt flavors (there are 16 daily rotating ones) and toppings—fruit, candy, nuts…get the cup weighed and pay 30 cents an ounce.
I am not a yogurt-fan…that said, I tried, vanilla, chocolate, strawberry and this-yogurt was one of the best that I have had. I will tell you, I also liked the "look" of the store…which you can check at Yogurtland's website.
Personally, I think that this self-serve yogurt stuff will prove to be a huge fad…when this particular "game of musical chairs" ends- who knows, but I'll bet you a green-tea yogurt, that it will eventually end.
Anyway…in the meantime, the bet here is that in the not to distant future, a self-serve yogurt joint will be coming to your neighborhood…you do remember video stores, don't you? Same idea.
If yogurt is your game, I think that you will really enjoy Yogurtland. This chain which currently has spots in 8-states has the formula worked out real good.
Yogurtland is open 7-days a week 11am-11pm.