New York Prime (Boca Raton)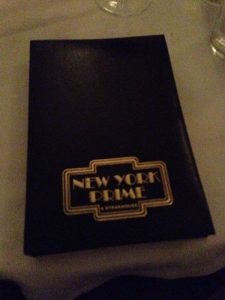 ***** New York Prime, 2350 Executive Center Drive, Boca Raton, Florida 33431, (561) 998-3881.
New York Prime is an "upscale steakhouse" located in Boca Raton.
This is a re-review…the original review July 23, 2008 was a "so-so" finding.
Over the years, I have eaten in this joint a number of times. My last outing was this past Saturday night with an 8:30 pm reservation. Let's just say, that from the crowd, it appears that the "recession" didn't hit New York Prime. Wall to wall people…with a 30-minute wait to "honor" that 8:30 pm reservation.
I have mixed "feelings" on New York Prime. The food is delicious and the service is as good as it gets…that said, there is something about this joint which doesn't sit right with old Jeff Eats. Can't exactly put my finger on it, but each and every-time I have eaten there, I find the joint surreal…the latest outing had me "defining" the feeling- as "New Jersey Houswives comes to Boca"—a lot of plastic surgery going on here…I'll leave you guys to figure out what this all means…let's just say that the crowd to say the least is eclectic.
Let's talk food…Delicious—-chopped salad ($9.50–enough for 2 people), 22 oz. bone-in-ribeye steak ($39.50), garlic chicken ($23.50), petite New York strip steak ($34), large sauteed onions ($11), large southwestern creamed corn ($11), large hash brown potatoes ($12).
Let me sum up the experience…excellent food, excellent service, prices aren't too terrible. Loud track/live keyborad music… with people singing along (and I do mean singing along at the top of their lungs to folks like Neil Diamond, Frankie Valli & The Four Seasons and Dion & The Belmonts)—if you are looking for a quiet-intimate–or even a dinner where you can hear yourself talk, New York Prime at least on a Saturday night, isn't the joint for you.)
Take a look at New York Prime's website www.centraarchy.com for menu/prices. New York Prime is open 7 days a week 5pm-11pm.
Every once and awhile, a joint like New York Prime is a real good place for an upscale steak-seafood dinner. Like I said before, the food and service are top-notch and the prices not toooo bad. The "show" is also something to see.
——
New York Prime (Boca Raton)
Posted on July 23rd, 2008 · American Boca Raton Seafood
New York Prime, 2350 NW Executive Center, Boca Raton, Florida 33431 (561) 998-3881.
This evening I ate dinner at New York Prime an upscale steakhouse…you know exactly what this kind of joint is all about…where a 22 oz. bone-in-ribeye goes for $42…where a baked potato goes for $7.50. Personally, if I closed my eyes and just ate, I couldn't tell you if I was in New York Prime, Abe & Louie's, Chops, Morton's, Ruth's Chris… as they all play the same tune, give or take a different "note" here and there. As for tonight's food, it was okay, nothing great…the steak was very fatty…the hash browns bland, your neighborhood bagel-deli makes better ones and doesn't charge $11…the onion rings and sauteed onions sides were good, but pricey at $8 and $11 respectively.
For information about menu/prices/hours… check this joint's website at www.centraarchy.com.
Just for fun…Do a bit of homework here…look at the menu prices and figure out what "your" theoretical meal would cost. I think your calculator will show, that unless you eat like a bird… a no alcohol-no appetizer-no dessert meal is going to run you something like 60-85 bucks a head.
Last night, my party of 4 dropped $300+…everyone agreed that the food was just fair and was way overpriced. For that kind of money, you would expect at least one "Boy! that sure was delicious" comment…don't you think?
I know people who swear by this joint…Personally, I think it's "a- big- to-do-over-nothing." The same goes for most of the upscale steak joints in South Florida, with one exception that being the Strip House (see review 5/9/08) in Palm Beach Gardens which doesn't take itself all that seriously.