La Stella's Restaurant & Catering (Boca Raton)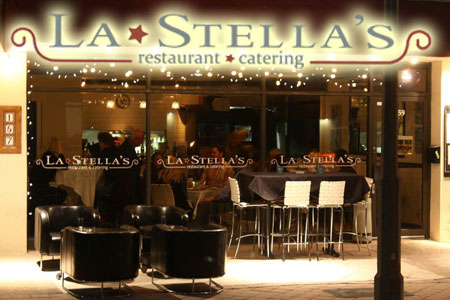 La Stella's Restaurant & Catering, 159 East Palmetto Park Road, Boca Raton, Florida 33432 (561) 544-2081.
Just got back from eating dinner at La Stella's…a 30 seat "mom & pop" Italian joint in Boca Raton. Wanna talk about mom-pop?… the lady owner is both waitress/bus-girl…same goes for a family guy-friend who is both waiter/bus-boy. You can check La Stella's menu/prices/photos at www.lastellasrestaurantandcatering.com.
This evening my "selected" entree was chicken scarpiello (on the bone)—the dish was so loaded with cherry and fried peppers that it was borderline inedible. A guy at the next table, told me-he also thought that the chicken scarpiello was way-way too spicy and that he would need some Rolaids when he got home.
Lucky for me, "my table" also ordered—house salad, gnocchi, eggplant parmigiana, grilled chicken, meat-balls and fresh mozzarella flatbread—which I got to taste… all very good. So, in total—we had 7 dishes, 6 were just fine and 1-was a disaster, which is an .857 batting average.
Just so you know, I found the service to be super-friendly but amateurish…it sort of reminded me of children-stars Shirley Temple and Mickey Rooney "doing a show." The portions were ok…but too pricey for what showed up. The entrees came with NOTHING…no salad, no pasta side…and get-this, no bread. That's right, no BREAD. Humor me, take an hour or two…give me the name of the last Italian restaurant that you ate at that didn't serve you garlic knots or garlic bread or any type of bread. Go for it, I'm looking forward to hearing from you guys.
Let's sum La Stella's up this way…a "no-liquor" $142 bill for 4 people was not a good deal. If the owner gets real-waiters, has garlic bread when you sit down, throws in soup or salad–and a pasta side with entrees, gets rid of those "peppers"—Jeff Eats will be back for a second go-round.
La Stella's is open Tuesday-Saturday 5pm-10pm and Sunday 5pm-9pm.